Indigenous Peoples Day and Unity Day!
Oct 11, 2021 10:30 AM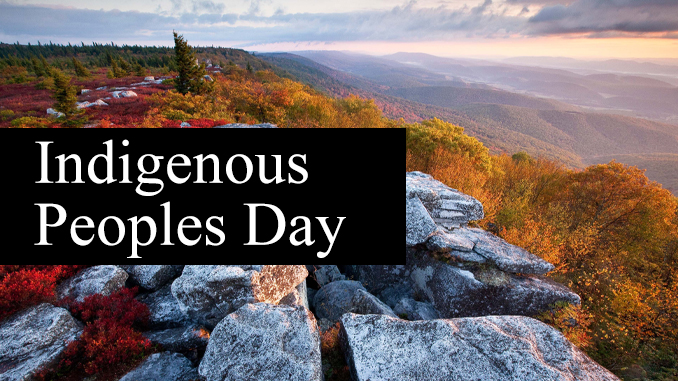 Dear Bobcat Nation:
Today many locations around the country celebrate Indigenous People Day. As we are One University with a World of Experiences, this commemoration fits perfectly with one of our values to celebrate diversity and differences. This day is a time to stop and reflect, as scholars and community members, the histories and cultures of Native American people and their culture.
While this day was formally recognized as another holiday, the recent celebrations across our nation indicate a greater willingness to understand, appreciate, acknowledge and remember the impact that the indigenous people had on the growth and sustainability of this nation, prior to the colonization by Europeans and since. While each chapter of history in this nation has had many untold stories of suffering and tragedy, the contributions are immense and can be found by any simple internet search.
The history of the indigenous people of Maryland includes the following: Accohannock Indian Tribe, Assateague Peoples Tribe, Cedarville Band of Piscataway Indians, Nause-Waiwash Band of Indians, Piscataway Conoy Confederacy on Sub-Tribes, Piscaway Indian Nation, Pocomoke Indian Nation and the Youghiogheny River Band of Shawnee Indians.
I respectfully ask each of you to take a moment today to recognize their continued existence. Do this to seek to strengthen our relationship with members of our state community, as well as state and national history. Today is not just another day to move about with our normal routines, it is truly a time to celebrate the cultures and histories of indigenous people… on our region, state and beyond.
Please note we are very proud to have indigenous students as part of Bobcat Nation as we are for all of our students that make up the diversity that we value and treasure here at Frostburg State University. When we celebrate parts of our community, we Forge Ahead to celebrate the Futures all of our students.
I also wanted to make sure that you remember that we are celebrating our first Frostburg State Fall Unity Day! Unity Day is meant to commemorate and celebrate Indigenous People's Day, National Coming Out Day and honor Brownsville Day, as well as pay respects to Latinx Heritage Month. This event will be on the Upper Quad from 5:30 – 8:00 p.m. on Monday, Oct. 11th. We will have games to play and prizes to win, as well as other activities brought to you by your student organizations, SGA, BSA, NAACP, Spectrum and LASO.
In closing, it is part of our nature on campus to initiate discussion and exchange ideas. It is part of our nature to raise issues that are uncomfortable. Today and each day as we forge ahead, understand that we can discuss hate and other things that are uncomfortable, but please STOP EXPRESSING HATE!!!
Dr. Artie Lee Travis
Vice President for Student Affairs
Frostburg State University
101 Braddock Road
Frostburg, MD 21532-2303
Phone: 301.687.4311
FAX: 301.687.4937
altravis@frostburg.edu