Heather A. Gable, DNP, RN, LNHA, CNE, NEA-BC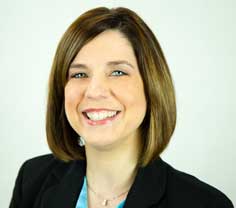 Dr. Heather Gable is the Department of Nursing, Chair at Frostburg State University. She works on campus as the department administrator and teaches online courses. Her educational background is a doctor of nursing practice and a master's specialty in nursing administration, which she earned both degrees through the University of Maryland, Baltimore, School of Nursing. Dr. Gable's additional licensure and certification include being a nursing home administrator (LNHA), Certified Nurse Educator (CNE), and board certification as an advance nurse executive (NEA-BC). Her LNHA credential stems from her experience as a licensed nursing home administrator in the long-term care setting.
Dr. Gable has gained her experience of 21 plus years in nursing as a staff nurse in both long-term and acute care, as charge nurse, RNAC, staff development coordinator, assistant director of nursing, quality assurance coordinator, nursing home administrator, consultant for a long-term care rehabilitation vendor, and most recently tenured, associate professor and department chair at FSU. She has worked through the ranks in the nursing field and has gained her supervisory and management experience from being an assistant director of nursing and nursing home administrator at two local facilities in Cumberland and Frostburg, Maryland.  Her teaching experience stems from teaching clinically at the associate degree level and face-to-face and online courses in the four-year university setting.

Dr. Gable's views on online learning success are the same as a face-to-face course in that if students are given the right tools and support they will succeed beyond expectations. Courses are infused with a myriad of options such as audio and video to assist the student to succeed in the style of learning that works best for the student to meet the goals and objectives of the course. Her learning philosophy is see one, do one, teach one. She strongly believes that students need to visualize or review a lesson, perform the lesson, and then pass on the knowledge gained from the lesson to a colleague or a co-worker so that what the student is being taught is reinforced in three ways. As a result, knowledge then spreads like wildfire to others outside the course going beyond the virtual classroom into the practice of the student and possibly their colleagues.