Jill Buterbaugh, DNP, CRNP, FNP-BC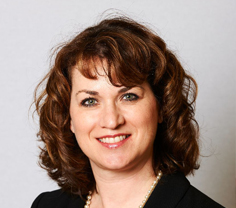 Professor Buterbaugh is an Assistant Professor in the Nursing Department.  She joined the faculty of Frostburg State University in October 2015 as part of a grant process to develop a blended Nurse Practitioner program as well as teaching on-line courses.  After obtaining an Associate Degree in Nursing, she spent the first ten years of her career as a staff nurse in an Emergency Department.  While working full time and taking care of her family, she returned to school to obtain her Bachelor of Science Degree in Nursing from the University of Pittsburgh in Johnstown and then her Master Degree in Nursing from Widener University.  She had additional training through a trauma nurse core credentialing program and was a Certified Emergency Nurse. She also received training in Intensive Care Nursing to work as relief staff in ICU.
She became certified as a Family Nurse Practitioner by the American Nurse Credentialing Center and spent the next ten years splitting her work between a Pediatric office and a Family Practice office as a Certified Registered Nurse Practitioner.  In 2008, she joined a private general surgery practice to further her specialty skills as well as satellite duties with cardiology.  She assisted in developing a remote telemedicine program to connect rural patients with specialists at the University of Pittsburgh Medical Center.  Since 2012, she has been working in a private vein center with a surgeon and continues her duties there.
She began her educational career as an instructor in Basic Life Support, Advanced Life Support, and Pediatric Advanced Life Support.  She has been a guest lecturer for family physician residency programs, Baccalaureate level nursing programs and at the state Nurse Practitioner Conference as well as community patient education programs.
She is very excited to help create a blended Nurse Practitioner program and feels that her non-traditional educational background, as well as, her 27 years of experience, will be an asset to help students in rural areas succeed in their educational pursuits to become Nurse Practitioners.  She realizes that blended programs offer a chance for exceptional nurses to obtain the education and experience they need to become Nurse Practitioners and provide much needed care to the underserved and diverse populations of their communities.