FSU Vocal Jazz Ensemble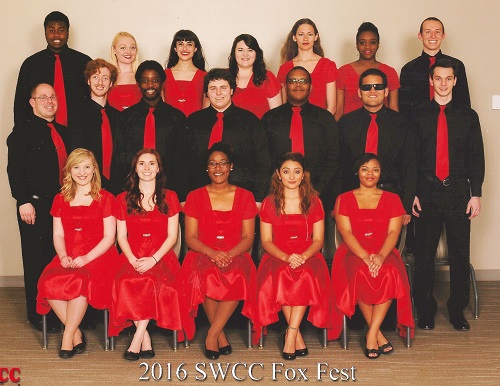 Mr. Scott Rieker, Director
The Vocal Jazz Ensemble (VJE) is an audition-only group of 8-10 students that perform at numerous venues both on and off campus and around the United States. They are one of the featured performers in the Department's Evening of Jazz concerts held twice a semester. VJE has also performed in the choral and jazz orchestra concerts, and with department ensembles for special performances, as well as at the Fox Fest Vocal Jazz Festival.
For information on auditions, upcoming performances, or to request they visit your school, please contact Mr. Scott Rieker at 301.687.4110, or email serieker@frostburg.edu.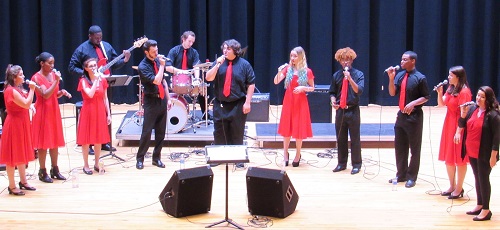 Upcoming Performances
FSU Evening of Jazz!
Featuring FSU Vocal Jazz Ensemble and FSU Jazz Orchestra
Fall 2018
Spring 2019
BOTH PERFORMANCES are in the Pealer Recital Hall of the Woodward D. Pealer Performing Arts Center
Admission
Cash or credit card
$10 General, $5 Seniors/Veterans/FSU Faculty & Staff, $3 Students, and Free for children 12 & under
---
Past Performances
Spring 2017 Program - "Then & Now"
Take Five by Paul Desmond/Dave & Iola Brubeck, arr. Kirby Shaw - featuring scat soloists Marsé Romero, Darcy Blumberg, & Khalil Bishop
God Bless the Child by Arthur Herzog Jr & Billie Holliday, arr. Steve Zegree
A Nightingale Sang in Berkeley Square by Manning Sherwin/Eric Maschwitz, arr. Kirby Shaw
Alright, Okay, You Win by Syi Wyche & Mayme Watts, arr. Steve Zegree
Chili con Carne by Anders Edenroth
Moondance by Van Morrison, arr. Jeremy Fox - soloist Darcy Blumberg, and scat soloists Khalil Bishop, Sebastian Couvreur, Danielle Garratt, & Jessica Ruskin
Sing, Sing, Sing by Louis Prima, arr. Mark Brymer, ed. James Reddan
Fall 2016 Program - "Jazz Masquerade"
Words by Anders Edenroth
Besamé Mucho arranged by Paris Rutherford - featuring soloist Jessica Ruskin
What Child is This by Darmon Meader
Tuxedo Junction arranged by Kirby Shaw - featuring soloists Anthony Dyson and Khalil Bishop
Boy from New York City arranged by Greg Jasperse
his Masquerade arranged by Steve Zegree - featuring soloists Khalil Bishop and Imani Jones
Spring 2016 Program - "Mood Indigo"
Baroque Samba, by Darmon Meader - featuring scat soloists Sebastian Couvreur & Danielle Garratt
Mood Indigo, by Duke Ellington, arranged by Harry Simeone
Nordic Polska, by Anders Edenroth
It Don't Mean a Thing, by Duke Ellington, arranged by Anders Edenroth
I Could Right a Book, by Darmon Meader - featuring scat soloist Rachel Cox
Bli Blip - by Darmon Meader - featuring scat soloists David Toro, Eleanor Fabic, & Marse Romero