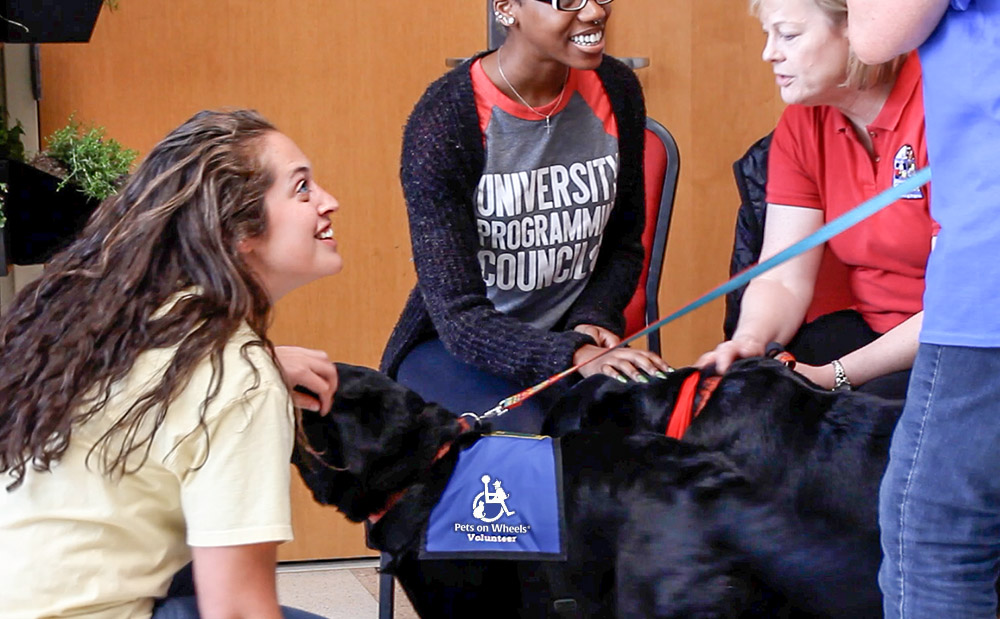 Explore Our Social Science & Counseling Programs
The social sciences aim to understand human thought and behavior and then apply that knowledge to improve the human experience. As the need for social service experts grow, so does your career outlook in a field that can be rewarding, both personally and professionally.
Undergraduate Majors
B.S. in Social Work
Social workers make a huge impact in the lives of the people they work with, helping clients cope with problems big and small and connecting them to the services they need. Prepare for generalist practice as a social worker with a thorough education backed by plenty of experience. Upon graduation, you'll have the skills and confidence needed to start practicing professionally or to get accepted into a graduate program of your choice.
Learn more about the B.S. in Social Work
---
B.S. in Psychology
Psychology is the science of human and animal behavior. Use biological, cognitive, developmental, social and personality perspectives to understand why people do what we do. Useful in a variety of careers, human behavior and mental health is especially appropriate for anyone interested in clinical, forensic, corporate, research and educational careers or graduate programming.
Learn more about our B.S. in Psychology
---
B.S. in Sociology
From international diplomacy to casual meet-ups between friends, sociologists work to understand the hierarchy of social structures and power that affect our everyday life. Examine social problems and analyze solutions. Explore social processes that drive communities, businesses and social groups. And because society is constantly changing, you'll learn to develop critical thinking skills and flexibility in how you consider these social behaviors.
Learn more about our B.S. in Sociology
---
B.S. in Social Science
By studying Social Science, you'll gain perspectives from a variety of fields including psychology, geography and political science all in one program. Integrate these diverse fields to assemble a holistic view of human behavior. Learn to think critically, considering all the factors of a situation and communicating your thoughts clearly. With courses that draw from a huge array of topics in several fields, you'll gain a broad skill set particularly appropriate for students interested in working in government, law, business or social services.
Learn more about the B.S. in Social Science
---
Minors and Emphases
Emphasis in Addiction Counseling
An emphasis in Addictions Counseling combines readily with a major in psychology or social work. Designed to meet the education requirements for Maryland certification in counseling, this emphasis helps bring effective, modern, research-based techniques to the people who need them most.
Learn more about an emphasis in Addiction Counseling
---
Minor in Cultural Anthropology
Study how people live in different cultures and different parts of the world, from the forests of Polynesia to the bustle of New York City. Then use what you learn to solve issues in your own social spheres. Dig into the pressing questions of not just what people do, but how and why they do it.
Learn more about a minor in Cultural Anthropology
---
Minor in Industrial and Organizational Psychology
Study and understand how and why workplaces work the way they do. Learn about human behavior to improve employee satisfaction or help employers find the best person for any given position. This minor is a great addition to anyone majoring in psychology, sociology, education or business.
Learn more about a minor in Industrial and Organizational Psychology
---
Minor in Women's Studies
Highlighting gender, culture and other factors that play into how society works, you'll explore the impact gender and other types of diversity have on all facets of a society. Build critical thinking skills and knowledge needed to recognize and understand the contributions, experiences and perspectives of women in society.
Learn more about a minor in Women's Studies
---
Graduate Programs
M.S. in Counseling Psychology
Prepare to work in a mental health clinic, counseling center, addictions clinic or human service agency with a Master's degree in Counseling Psychology. The program is committed to science-based training and was the first counseling psychology master's program in Maryland and only the sixth nationwide to receive accreditation from the Master's in Psychology Accrediting Council. You'll focus on the development of personal qualities, understanding and professional skills making you an able practitioner in the field. Experience significant self-discovery as well as the acquisition of the competencies of a professional counselor.
Learn more about a M.S. in Counseling Psychology
---
M.Ed. in School Counseling
Through this program you'll commit to three broad areas of learning: Knowledge, Skills and Personal Awareness. Become certified to work as a school counselor at the elementary, middle and secondary level or pursue a career such as admissions counselor, behavioral specialist, Head Start Family Engagement Coordinator and various other positions in social service and educational organizations.
At the conclusion of this graduate program, you'll possess the requisite knowledge, skills, and disposition allowing you to function effectively in the holistic development of students in the K-12 setting in accordance with the CACREP Standards for School Counseling Programs.
*A background in teacher education is NOT a requirement for admission to the School Counseling Program. Students who successfully complete the program will be eligible for certification as a K-12 school counselor in Maryland.