Compton Music Stage
Saturday, September 16
View Flyer (PDF)
10:15 AM Bear Hill Bluegrass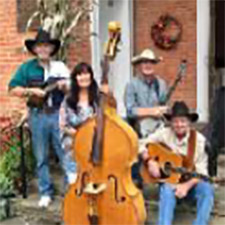 Bear Hill Bluegrass takes pride in performing traditional bluegrass and gospel, while adding just the right mix of classic country and comedy to please the audience and have fun. They play the familiar bluegrass, gospel and a few country songs that everyone will recognize, done in a friendly down-home manner on stage. The audience is involved with the band and the songs throughout the show.
11:00 AM Meadow Run
This husband and wife duo hail from the cozy hills of West Virginia. They play unique songs that blend the contemporary folk genre with a bluegrass spirit. Lindsey's voice often carries her own lyrics which collects friendships, mountain scenery, thoughtful reminiscence and mixes them into a soothing energetic style while Ty backs up her sound with his beautiful melodic style of fiddle and vocal harmonies. Their love of music and for each other is evident as these two play from the heart.


11:45 AM Marv Ashby and High Octane
From the West Virginia Panhandle comes that hard-driving 'no holds barred' bluegrass music courtesy of Marv Ashby and the High Octane band. Marv is joined by some the region's finest entertainers delivering a quality and fast moving show. Both traditional and contemporary bluegrass genres are showcased during High Octane performances. High Octane features Marv's aggressive flatpicking style and straight-ahead vocal arrangements.


12:30 PM Ken and Brad Kolodner Quartet
The dynamic father-son team Ken & Brad Kolodner weave together a captivating soundscape on hammered dulcimer and clawhammer banjo blurring the lines of Old-Time, Bluegrass and American Roots music. Regarded as one of the most influential hammered dulcimer players in North America, they've sculpted their own brand of driving, innovative, tasteful acoustic roots music with a "creative curiosity that lets all listeners know that a passion for traditional music yet thrives in every generation." They are joined by bassist Alex Lacquement who locks everything together with his commanding presence and the dynamic multi-instrumentalist Rachel Eddy on fiddle and guitar. The quartet won 1st place in the Neo-Traditional Band Contest at the Appalachian Stringband Festival (Clifftop) in the summer of 2019. The Kolodner's are at the heart of the old-time scene in the mid-Atlantic region, hosting The Baltimore Old Time Jam, The Baltimore Old-Time Music Festival, and much more.


1:15 PM The Kevin Prater Band
Kevin Prater's lifelong journey in bluegrass music began with his first professional job at age seven. Now in his 43rd year his talents have taken him to 24 countries and 49 states. Kevin has shared the stage with many legends of bluegrass including The Osborne Brothers, Doyle Lawson & Quick Silver, Charlie Waller & The Country Gentleman. For the past 15 years Kevin has been leading his own band throughout the USA and Canada. They have released six CDs, most recently "Red Rocking Chair" recorded at Kevin's own studio, Sound Makers in Belcher, KY. Kevin could not create that "Coal Fired, Pure Kentucky Bluegrass" sound without the help of his multi-talented band. From North Carolina, Jake Burrows on banjo and dobro. Hailing from West Virginia, Mallory Hindman on fiddle and Alex Donahue on bass and on guitar, Lennie Centers of Jackson, KY.


2:05 PM Devil in the Mill
'Devil in the Mill' is a trio composed of multi-instrumentalists Dakota Karper (Capon Bridge, WV), Meghan Mette (Baltimore, MD) and Julius Bjornson (Baltimore, MD). Devil in the Mill brings the pulsing groove of Appalachian music to center stage, whether weaving together their three fiddles and voices, or supporting each other with banjo, guitar and percussive dance. From haunting ballads to driving fiddle tunes, original music and traditional pieces reimagined, Devil and the Mill leaves listeners inspired and ignited after every show.
2:50 PM Hickory Bottom Band
Tight three-part harmonies, solid pickin', and lotsa fun are the hallmarks of this fine western Pennsylvania-based band. Every member has a rich musical history in a variety of genres, so the material ranges from both well-known and obscure bluegrass classics, to grassy versions of select radio hits from the past 40 years. But no matter the music's source, it's "all bluegrass" from this talented bunch.


3:40 PM Jocelyn Pettit & Ellen Gira
Special Note: The FSU Appalachian Festival is delighted to host Ellen Gira, granddaughter of Dr. Catherine Gira, former President of FSU. President Gira was always a strong supporter of the Festival. From Squamish BC and Maryland USA, Jocelyn Pettit & Ellen Gira are a dynamic fiddle & cello duo. Fusing traditional and contemporary influences, they create powerfully uplifting and soulful music, weaving a rhythmically driving and textured sound. They bring life and fire into original tunes and songs, and high-energy repertoire from Scotland, Ireland, North America, and Scandinavia, with vocal harmonies, lively stepdancing and podorythmie foot percussion. Each accomplished musicians in their own right, with extensive performance history and accolades, Jocelyn & Ellen first joined forces in 2018, in Scotland. Since then, the duo has been gracing stages and captivating audiences in both North America and the UK. They have performed for HRH Prince Charles, been featured in live broadcasts on BBC Radio 3, and released their album, "All It Brings", in Summer 2022. For this concert, Jocelyn & Ellen will be joined by excellent Maryland-based guitarist, Richard Osban. The trio will present a lively performance of traditional and original tunes and songs.


4:25 PM Critton Hollow String Band
With fiddle, hammer dulcimer, banjo, and guitar, the band tends a stable of songs from the first settlements of Appalachia to the best of contemporary American folk music. Songs that express a range of experience that can make you laugh or make you cry and occasionally do both at the same time, ballads that tell stories of bad men and disappointed lovers. The three members of the band - Joe Herrmann, Sam Herrmann, and Joe Fallon - combine precise instrumentation, melodic interplay, and three-part harmony to create a warm and engaging sound.


5:10 PM Day Old News
Day Old News grew its roots from the old-time, bluegrass, and americana folk sounds that surround them in the Appalachian Mountains of Western Maryland. Band members are Jeremie Hamilton, Tom Bond, and Sam Lauver.