Bill Miller
INDIGENOUS PEOPLES' HERITAGE CELEBRATION
Tuesday, Oct. 10 at 7:30 PM
Pealer Recital Hall | Woodward D. Pealer Performing Arts Center
"
"[Bill] has always reminded me of what our singers and writers are all about, singing what cannot be spoken, echoing what cannot be heard, in ways that ring true and honest." (Arlo Guthrie)
A Musical Celebration of Native American Heritage
Take a musical journey through the eyes of a Native American with multiple Grammy Award-winning musician and maestro of the native flute, Bill Miller. Miller has moved audiences around the world and his music amplifies the whispers of Native people's hearts with his signature sound: thunder (the voice), wind (the Native American flute), water (the guitar) and soul (the story). Drawing from his own life experiences and centuries of tradition, his restless creative spirit mingles with heartfelt integrity, infusing his work with substance and style. 
The son of Mohican and German parents, Bill used music to emerge from the entrenched poverty of his youth on a Wisconsin reservation. He has shared the stage with Eddie Vedder, Richie Havens, Arlo Guthrie and Tori Amos, and appears as flute soloist on the song Colors of the Wind from Disney's Pocahontas. A three-time Grammy recipient for Best Native American Music Album, he has received numerous Native American Music Awards honors, including a Lifetime Achievement award.
---
ARTS BEYOND THE STAGE
Main Street Books Window Display
Main Street Books, 2 East Main Street, Frostburg
Through the Month of October
Main Street Books will present a colorful display in its front window, featuring Native American-focused books and other items.
Native American Foodways Community Dinner
Wednesday, Oct. 4 | 4:30 PM to 8 PM
FSU Chesapeake Dining Hall
Experience new flavors and join us for an all-you-care-to-eat buffet at FSU's Chesapeake Dining Hall. Explore Native American foodways, including dishes that incorporate the ingredients of traditional Three Sisters agriculture – beans, squash and corn.
$14.75 per person. Payment taken at the door; cash and credit accepted.
Registration is requested to assist Chartwells chefs in preparing a sufficient quantity of servings.
Indigenous Arts and Culture Celebration
Evergreen Heritage Center, 15613 Trimble Road, Mount Savage
Sunday, Oct. 8 | 1-4 PM
Evergreen Heritage Center, which is situated on land once inhabited by the Shawnee Tribe, will host a free afternoon celebration focused on local indigenous culture. The extensive event will feature multiple heritage activities, including a presentation about traditional herbal medicines, a historical display about local Native heritage, a demonstration of traditional firebrick oven cooking techniques and museum tours. 
During the event, Maryland artist and educator Maggie Pratt will lead an art and nature workshop that incorporates elements of local native history and myth. The workshop is open to ages 12+; children ages 8-11 may attend if accompanied by adult. 
Registration is not required to attend the celebration.
Workshop participation is limited to 15 and registration is required.
Bill Miller
Workshop: Songs of the Spirit
Clatter Café, 15 South Broadway, Frostburg
Monday, Oct. 9 at 11 AM
With his uniquely authentic perspective, Bill Miller will share the history of traditional and contemporary Native American music along with a demonstration of the native flute and drum. "I am an instrument of peace," says Miller, "so is the flute, so is my voice, so is my presence, so is my guitar and so is my spirit."
Registration not required.
Bill Miller
Workshop: Three Elements of Native American Art
Clatter Café, 15 South Broadway, Frostburg
Monday, Oct. 9 at 1 PM
Bill Miller's paintings have appeared in the Smithsonian National Museum of the American Indian, Chicago's Trickster Gallery and New York's American Indian Community House Gallery. He will share a cultural overview of Native America while demonstrating on canvas the use of three traditional elements: function, beauty and spirit. The completed painting will be displayed at Frostburg's Mountain City Traditional Arts through November to honor National Native American Heritage Month.
Registration not required.
Bill Miller
Reconciliation and Diversity Symposium: The Red Road to Victory
FSU Adams/Wyche Multicultural Center at the Lincoln School
Monday, Oct. 9 at 6 PM
After opening in song with native flute and offering an examination of his Mohican tribal history and culture, Miller will share his journey from victim to victory, illustrating the "12 feathers of healing," which model his vision of transformation through reconciliation. He will illustrate the relationship between majority and minority cultures, the ineffectual result of teaching tolerance and assimilation, and how to attain a redemptive culture of understanding and peace.
Registration not required.
Ryan Koons Presentation: Land Acknowledgement Statements
Clatter Café, 15 South Broadway, Frostburg
Tuesday, Oct. 10 at 2 PM
Ryan Koons, Maryland State Arts Council Folklife Specialist, will visit Frostburg's Clatter Café to discuss the process of developing land acknowledgement statements. Such statements, which recognize Indigenous peoples dispossessed of their land by settler colonists, are an effective and ethical way to begin to recognize Indigenous sovereignty, to correct the stories and practices that erase Indigenous people's history and culture, and to invite and honor the truth.
Registration not required.
Conversation with the artists
Moderated by WFWM station director Chuck Dicken immediately after the performance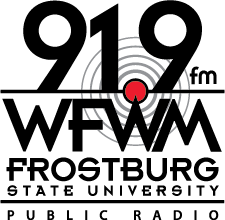 Bill Miller will share how he has taken his own personal observations and experiences to create art that is universal in its ability to strike people in the heart.