Careers
Like many liberal arts, philosophy does not aim at studying the subject matter of any particular occupational field. Nevertheless, studying philosophy provides a uniquely rigorous intellectual training that equips its graduates with critical thinking and verbal skills that give them an advantage in virtually any career they choose to pursue. Many students combine philosophy with a course of study related to the occupation of their choice because studying philosophy will help boost their standardized test scores and enhance their desirability to employers and postgraduate institutions in comparison to their peers who lack the rigorous intellectual training of a philosophy degree.
Philosophy students acquire skills that employers want such as:

Critical Thinking
Logical Analysis
Creative Problem Solving
Writing
Communication Skills
Ethical Awareness
Philosophy majors have higher scores on the Law School Admission Test (LSAT), and a higher rate of admission to law school than applicants majoring in political science, sociology, criminal justice, communications, English, psychology or history. In the 2015-2016 academic year, 86.4% of the philosophy majors who applied to law school were admitted, with an average LSAT score of 157.97. 1
On the Graduate Management Admission Test (GMAT), required by most business schools, philosophy majors score higher than other humanities majors, higher than other social science majors (including economics), and higher than business majors. They are outscored only by two majors: math and physics. 2
Philosophy majors have the highest acceptance rates to medical school (50%). While students need to take specific science courses in order to be accepted, majoring in a science is not necessary. In fact, non-science majors actually have an advantage. 3
On the Graduate Record Examinations (GRE), required by most academic graduate programs, people with philosophy as their intended graduate major have the highest average score of any major on both the verbal and the analytic writing sections (better than English!), and they score well above average on the quantitative section. 4
Philosophy graduates go on to pursue careers in
Law, religious work, business management, consulting, writing, editing, broadcasting, public relations, teaching, and many other areas. 5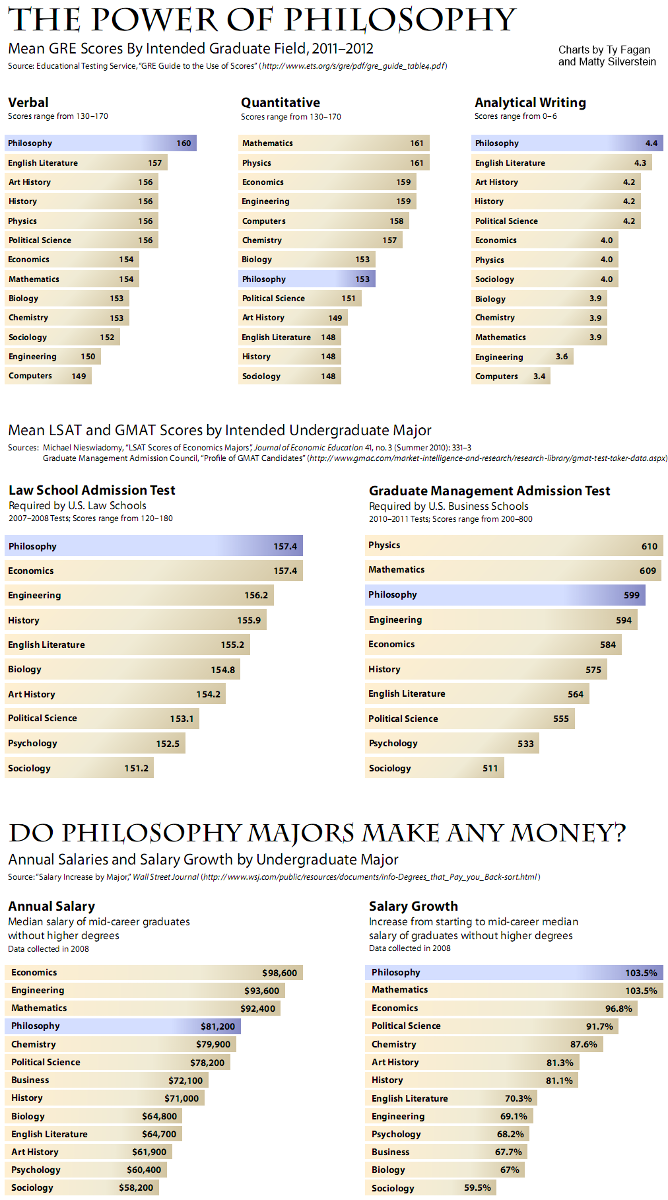 What non-academic careers do philosophers pursue? Check out the APA's 2016 edition of Beyond Academia: A Professional Resource Guide for Philosophers
Who Studies Philosophy? Check out the APA Resource Guide.
Ready to declare Philosophy as your major or minor?
Just contact the chair of the department .
Once you declare philosophy as a major or minor you and your advisor will be able to track your remaining course requirements in PAWS. When you declare philosophy as a major you will be assigned a major advisor in the philosophy department.
[2] Graduate Management Admission Council, "Profile of Graduate Admissions Test Candidates 2006-07 to 2010-11." http://www.gmac.com/~/media/Files/gmac/Research/GMAT%20Test%20Taker%20Data/profileofgmatcandidates_ty200607to201011.pdf
[3] Jung, Paul, "Major Anxiety: If You Think Biochemistry is Your Ticket Into Medical School, Think Again" The New Physician, 49: 6 (September 2000), http://www.amsa.org/AMSA/Homepage/Publications/TheNewPhysician/2000/tnp275.aspx
[4] Educational Testing Service, "Table 4: General Test Percentage Distribution of Scores Within Intended Broad Graduate Major Field Based on Seniors and Non-Enrolled College Graduates" (2012), http://www.ets.org/s/gre/pdf/gre_guide_table4.pdf. In 2011-2012 the mean Verbal score for philosophy was 160, the mean Analytic Writing score for philosophy was 4.4, and the mean Quantitative score for philosophy was 153.
[5] Fogg, Neeta and Harrington, Paul. The College Majors Handbook with Real Career Paths and Payoffs. 2nd ed. Indianapolis: JIST Publishing (2004). Ch. 47.