Events
To find out about upcoming events, join our Facebook Group!
Philosophical Forum
Once or twice a year the Philosophy Department invites a philosopher to give a public lecture, or a panel of scholars to discuss a philosophical topic of general interest. All Frostburg State University students, faculty, staff, and community are welcome to attend. For more information, contact the chair of the department, Dr. Skott Brill, 301.687.4249 or sbrill@frostburg.edu.
Spring 2017 Philosophical Forum:
Advance Directives: Problems and Prospects
Dr. Eric Vogelstein, Duquesne University
Tuesday, April 18th
7:00-8:30 p.m.
Atkinson Room, Lane University Center
Advance directives, also known as living wills, allow people to make decisions about what sort of medical treatment they want, or don't want, should they no longer be able to make those decisions for themselves.  Advance directives are widely praised among healthcare professionals as an important way of safeguarding patient autonomy.  This talk will describe three distinct problems with that conventional wisdom, and an additional philosophical problem with the use of advance directives for patients with severe dementia.  In light of those concerns, the question we must ask is whether the widespread use of advance directives should be supported, and whether advance directives should be broadly recommended to patients, as is the current practice.  It will be suggested that while advance directives are ethically sound tools for patients in certain fairly specific circumstances, it is dubious that advance directives can serve their intended function for most of us.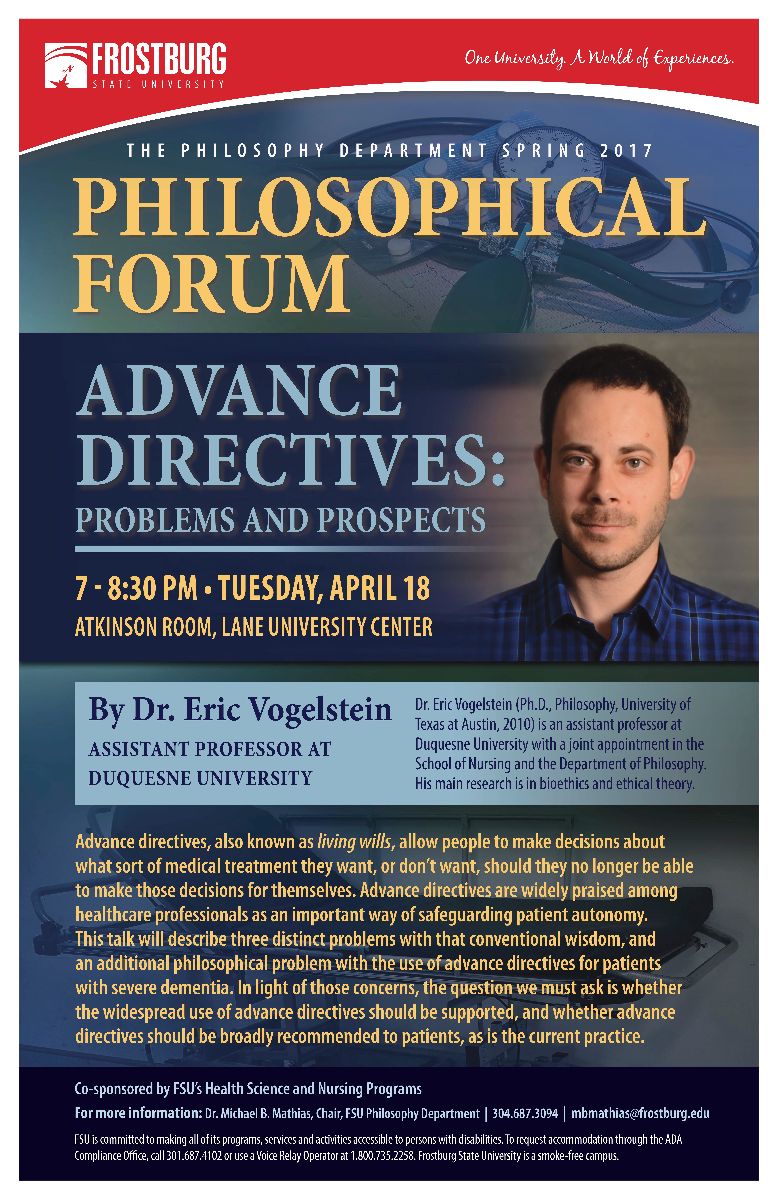 Past Philosophical Forums: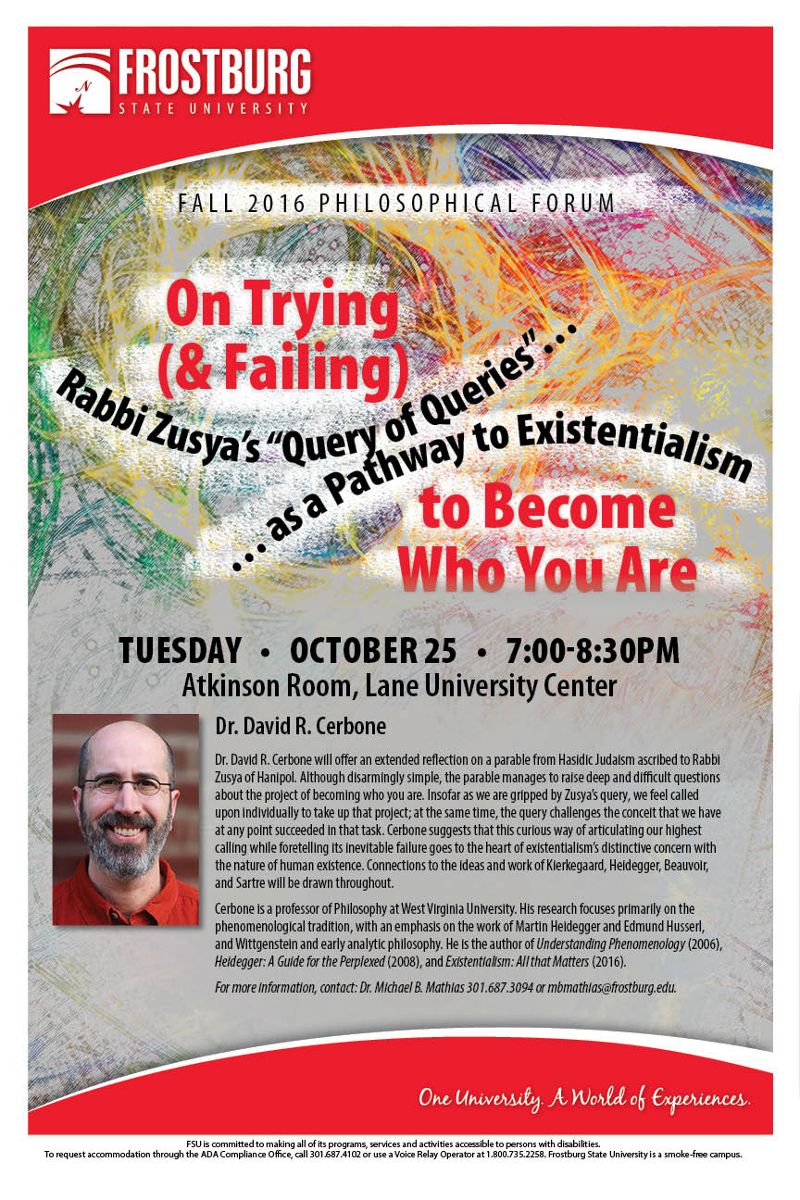 Fall 2016 Philosophical Forum: 
Dr. David R. Cerbone, "On Trying (& Failing) to Become Who You Are"
Tuesday, October 25, 7- 8:30 pm, Atkinson Room, Lane University Center
Dr. David R. Cerbone will offer an extended reflection on a parable from Hasidic Judaism ascribed to Rabbi Zusya of Hanipol.  Although disarmingly simple, the parable manages to raise deep and difficult questions about the project of becoming who you are. Insofar as we are gripped by Zusya's query, we feel called upon individually to take up that project; at the same time, the query challenges the conceit that we have at any point succeeded in that task.  Cerbone suggests that this curious way of articulating our highest calling while foretelling its inevitable failure goes to the heart of existentialism's distinctive concern with the nature of human existence.  Connections to the ideas and work of Kierkegaard, Heidegger, Beauvoir, and Sartre will be drawn throughout.
Dr. Cerbone is a professor of philosophy at West Virginia University. His research focuses primarily on the phenomenological tradition, with emphasis on the work of Martin Heidegger and Edmund Husserl, and Wittgenstein and early analytic philosophy.  He is the author of Understanding Phenomenology (2006) ,Heidegger: A Guide for the Perplexed (2008), and Existentialism: All that Matters(2016).