TrakStar Home
FSU utilizes TrakStar Professional, a Web-based PMP tool for staff employees.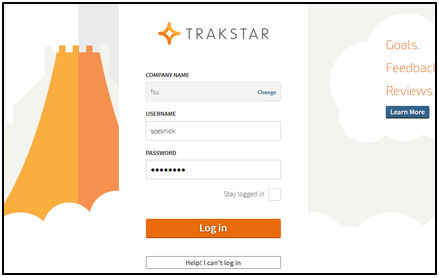 (includes log in and video trainings)

To access TrakStar follow these steps:
For Organization: enter FSU in all CAPS for the COMPANY NAME
For User Name: For USERNAME enter your FSU Username in all lower case (for example, bjones)
For Password: For PASSWORD enter your FSU Password
Click on
Log in
. 
Once you log in to TrakStar, look around. Take the training, look in your employee folder and let us know if your position information is up to date. Contact the Office of Human Resources at x4106 or
hrinfo@frostburg.edu
if you have any questions.
Online support and training is available through Trakstar.  Customized training is available on demand by contacting the Office of Human Resources.
Our appraisal cycle is April 1 through March 31. The scoring window is March 1 through April 30.