FSU Police Officers Recognized for Bravery, Selflessness
Oct 4, 2023 8:00 AM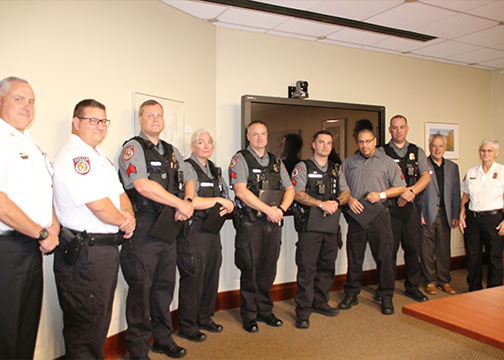 On Wednesday, Oct. 4 during President Nowaczyk's Executive Cabinet meeting, Frostburg State University Police Chief, Cynthia Smith, presented members of her team with awards for their selfless responses to dangerous situations earlier this year.
On March 24, S/Cpl. Livingston, Sgt. Dunn, Cpl. Sanabria and Cpl. Robinette responded to the scene of an incident involving gunfire to assist in suspect restraint, render aid to the victim and assist with crime scene control. For their efforts, both officers were presented with a Bravery Ribbon and a citation.
On May 7, Sgt. Lewis, Cpl. Shoemake and Sgt. Bevan, who was off duty at the time, responded to the scene of a crime also involving gunshots. The three officers worked together to render aid to multiple and crowd and crime scene control. Additionally, Sgt. Bevan spent countless hours reviewing video surveillance to assist in the investigation. Sgt. Lewis and Cpl. Shoemake received Bravery Ribbons and citations, and Sgt. Bevan was awarded a Meritorious Conduct Ribbon and citation.
"Our officers often proactively train for the unnatural, selfless response of running towards gunfire as they did on these days," said Chief Smith. "Their bravery and the actions that followed directly afterward are commendable. They acted with the utmost professionalism, bringing great credit upon themselves and the FSU Police Department."