Forging Futures Campaign Reaches Initial Fundraising Goal
Sep 11, 2023 8:00 AM
$25 Million Raised for Students, University and the Region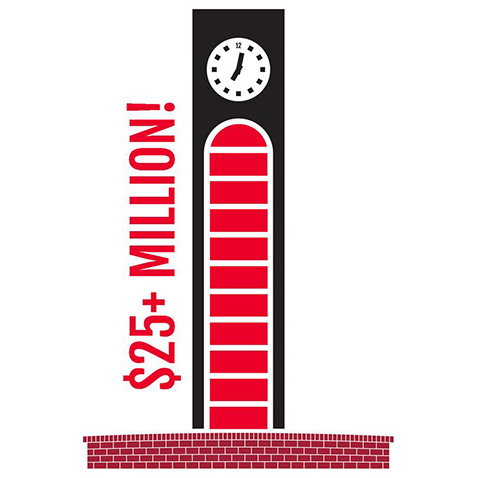 In 2016, Frostburg State University (FSU) began a comprehensive campaign known as Forging Futures: The Campaign for Frostburg State University, with an initial goal of $25 million to support annual initiatives, increase scholarships available for students, support classroom and experiential student experiences, create regional partnerships to help drive economic and educational development and help fund capital projects that improve the campus and enhance students' lives. The goal was to complete the campaign in 2023 in conjunction with the University's 125th anniversary.
With the support of alumni, faculty and staff, parents of students and members of the community who recognize the transformational opportunity FSU provides to students and the economic impact it has in the region, the campaign goal of $25 million was recently met.
"It is incredibly exciting to see the FSU community come together to believe in a shared vision and invest in a better future for Frostburg State University and its students," says Patrick Friel, Chair of the FSU Foundation Board of Directors. "Achieving this milestone is a significant step toward ensuring that the University can continue to provide a high-quality educational experience for its students, and that those students will be supported in their academic pursuits."
 "The important fact about this campaign isn't that we have raised $25 million, but that the money raised has helped improve the lives of our students as well as the region," said Dr. Ronald Nowaczyk, president of FSU.
Fundraising is a necessity to provide additional scholarship support to offset increases in tuition, fees and room and board, but it also enables FSU to help students in a multitude of other ways, from new classroom and lab equipment to travel experiences. Since the campaign's launch in 2016, annual scholarship support from the FSU Foundation has increased from $465,000 to over $1.3 million.
The campaign has also been successful in helping to meet capital needs including the development of a Regional Science Center in the former Frostburg City Hall and a multicultural center on campus. Thanks to gifts to the campaign, FSU was also able to renovate athletic facilities such as the track and purchase several scoreboards and video boards.
According to John T. Short, Jr., Esq., vice president for University Advancement and executive director of the FSU Foundation, "Although the campaign goal has been achieved, the need for support in all of these areas continue and fundraising for the campaign will carry on for the foreseeable future, and we hope others will support the campaign to help forge the future of FSU and its students."
You can learn more about campaign priorities and how to support FSU by visiting www.frostburg.edu/forgingfutures.