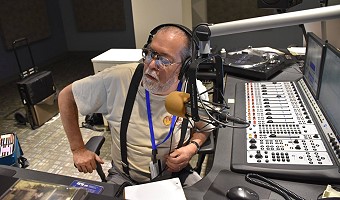 Live weather forecasts are part of the show. In this picture Greg is reading the forecast from a computer screen off to his right. The main control board can be seen at right in the photo, and the two record turntables can be seen at the back of the photo. Of the two computer screens on the right, the rear screen reads out the status of the control board, and the screen towards the front handles digital music and also public service announcements.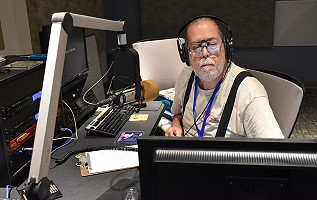 Doing a live weekly radio show involves intense concentration. In this picture, Greg is checking one of the three computer screens used during the show to set up a block of public service announcements.
Music comes from three sources: LPs, CDs, and digital files. All music used on the show has been collected personally by Greg. LPs are still used as some vintage historical recordings are only available in that format. The show is structured so that the same recording (LP, CD, etc.) will not be used again for from three to six months. No "Top 40" here!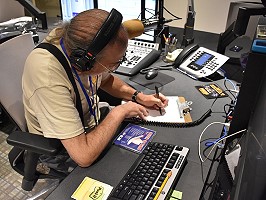 Record keeping is a necessary part of the show. A playlist is kept of all tracks that are played. This is used by ASCAP, BMI, and others to determine royalty payment to artists. Listeners often e-mail Greg asking about a particular piece that was played on the show.
In this picture, Greg is choosing a piece from his digital library. One piece can be previewed (cued) while another one is playing on the air. The left computer screen reads out control board functions, and the right screen displays the music library and is also used for playing public service announcements. The two CD player screens (blue) can be seen in the background at right.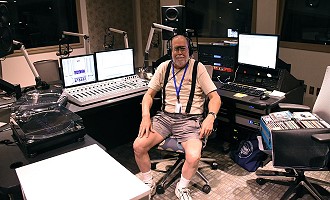 In a rare free moment, Greg turned around for this picture, surrounded by the equipment in the studio.