Leadership Residency Program - Biographies
The FSU Leadership Residency program brings locally and nationally recognized leadership educators
Biographies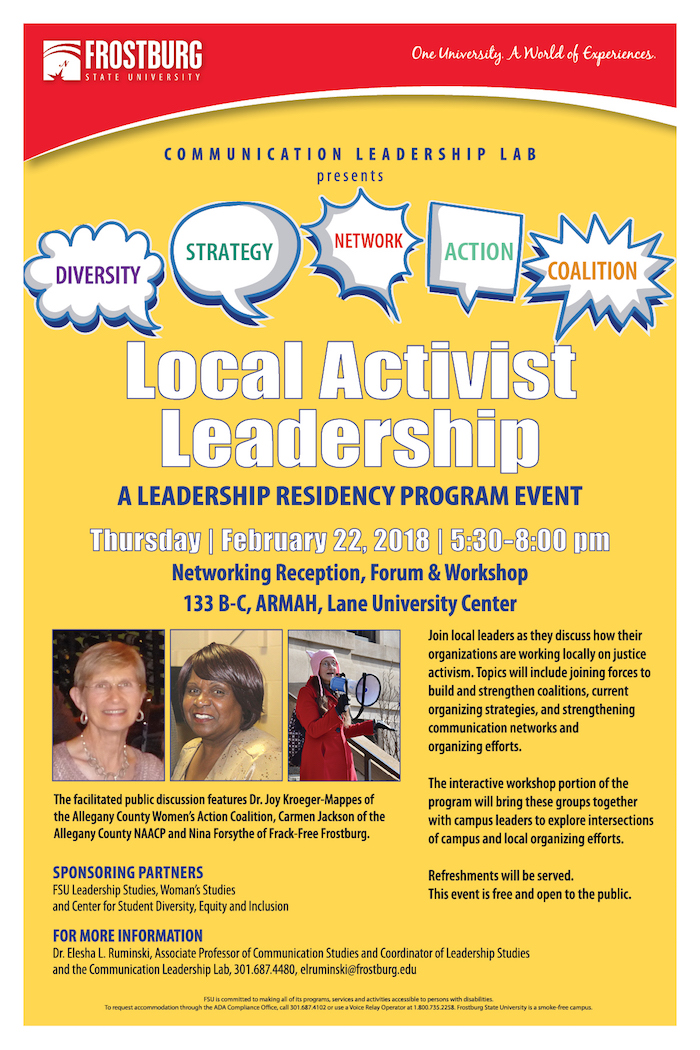 Local Activist Leadership
Spring 2018 Leaders-in-Residence
Dr. Joy Kroeger-Mappes
Carmen Jackson
Nina Forsythe
The 2018 annual FSU Leadership Residency Program titled "Local Activist Leadership," was held on Thursday, Feb. 22, 2018. The residency featured Dr. Joy Kroeger-Mappes of the Allegany County Women's Action Coalition, Carmen Jackson of the Allegany County NAACP and Nina Forsythe of Frack-Free Frostburg, who participated in classroom discussions as well as a special program for those interested in local activist leadership. The campus program began with a networking reception at 5:30 p.m. in Lane Manicur Hall 133 B-C, followed by a forum discussion and facilitated action-planning workshop. The forum featured leaders discussing how each organization is working locally on justice activism and how they are joining forces to build and strengthen coalitions. Topics explored included current organizing approaches and plans, building and strengthening coalitions and collaborations, leadership and diversity, and strengthening communication networks that intersect standpoint concerns and organizing efforts. The interactive workshop portion of the program brought these groups together with campus leaders to explore intersections of campus and local organizing efforts. This event, which was open to the local community, was organized through the Communication Leadership Lab and co-sponsored by the Leadership Studies and Women's Studies minor programs and the Center for Student Diversity, Equity and Inclusion.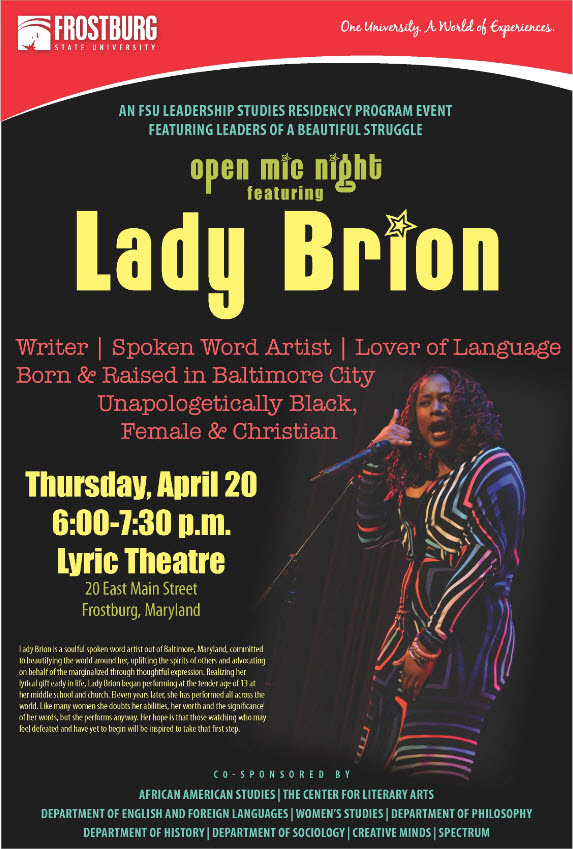 FSU Leadership Studies Residency Featured Leaders of a Beautiful Struggle at Dialogue and Poetry Eventt
Spring 2017 Leaders-in-Residence
Members of the grassroots public policy think tank Leadership of a Beautiful Struggle (LBS) visited Frostburg for the annual Leadership Studies residency program at Frostburg State University (FSU) from Tuesday, April 18, through Thursday, April 20. The residency program offered opportunities for campus and community members to interact with leadership scholars or practitioners to learn about the interdisciplinary nature of leadership.
As part of residency, a community dialogue, "Rural and Urban Values," was convened by the FSU Communication Leadership Lab on Wednesday, April 19, from 6 to 8:30 p.m. at the Frostburg Community Center at 27 S. Water Street in Frostburg. The public was invited to participate in this moderated discussion to explore understandings of rural and urban culture and politics and how they intersect around common concerns in our region. The session was co-moderated by Tara Taylor, director of Education and Outreach at the Maryland Commission on Civil Rights; Dr. Elesha L. Ruminski, FSU associate professor of Communication Studies and Coordinator of Leadership Studies; and Dr. Diane McMahon, associate professor of Sociology and faculty director of Service Learning and Civic Engagement at Allegany College of Maryland. Originating in 2010, LBS promotes transformative change in Baltimore and emphasizes the power of public debate through its mission to advance the public policy interest of Black people in Baltimore through youth leadership development, political advocacy, autonomous intellectual innovation and coordinated efforts with volunteers called "Community Sustainers" (http://lbsbaltimore.com/). LBS members Lawrence Grandpre, director of Research, and Dayvon Love, director of Public Policy and Research, visited classes and interacted with members of campus and student leadership at a networking lunch and open discussion session. Classroom and session discussions included what LBS offers as strategies for addressing institutionalized racism, building interracial coalitions and organizing collective action and legislative advocacy and their co-authored LBS book The Black Book: Reflections from the Baltimore Grassroots (2014). Events concluded with LBS cultural curator Lady Brion emceeing an open mic poetry event on Thursday, April 20, at 6 p.m. at the Lyric Theatre at 20 E. Main St. in Frostburg. This event invited students to share their poetry and prose as well. This experiential learning program was supported in part by the FSU Foundation, African American Studies program, the Black Student Alliance, the College of Liberal Arts and Sciences, the Office of Student Affairs, and the local branch of the NAACP..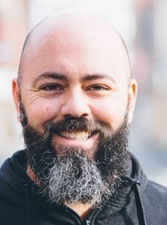 Blaine Siegel
Spring 2016 Leader-in-Residence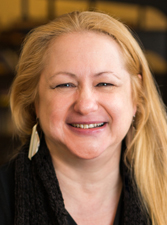 Dr. Annette Holba
Spring 2015 Leader-in-Residence
Dr. Annette M. Holba will serve as the Leadership Leader-in-Residence for a full day of sessions on Tues., April 7 at Frostburg State University. This year's events are sponsored by the Leadership Studies minor program, Division of Student Affairs, and the Kim and Marion Leonard Wellness Outreach Fund of the FSU Foundation, Inc.
Holba is associate professor of Rhetoric at Plymouth State University (PSU), where she teaches communication/media studies and philosophy courses. She received her Ph.D. in Rhetoric from Duquesne University, M.A. in Liberal Studies from Rutgers University, and B.A. in Law and Justice Studies from Rowan University. Holba serves as the editor of Qualitative Research Reports in Communication, and her books include Transformative Leisure: A Philosophy of Communication; An Overture to Philosophy of Communication: The Carrier of Meaning (co-author, Ronald C. Arnett); Philosophical Leisure: Recuperative Praxis for Human Communication; and Lizzie Borden Took an Axe, or Did She?: A Rhetorical Inquiry. She also co-authored and co-edited four other books related to philosophy of communication, rhetoric, and women's leadership, including Communicative Understandings of Women's Leadership Development: From Ceilings of Glass to Labyrinth Paths (Lexington Books, 2011), co-edited with Dr. Elesha L. Ruminski of FSU's Communication Studies and Leadership Studies programs.
Prior to receiving her doctorate degree, Dr. Holba worked for eleven years in law enforcement as a County Detective with the Burlington County Prosecutor's Office in New Jersey, where she was assigned to the Sexual Assault and Child Abuse Unit as well as Major Crimes. During her service in law enforcement Holba primarily investigated sex crimes and homicide, as well as held special assignments in other divisions. Additionally, as a certified police instructor, she trained other detectives in forensic child interviewing and the NJ Title 2C criminal code annual updates. Currently, Holba's scholarly interests include philosophy of communication, communication ethics, and mindful leadership. Recently, her research interests have led her to explore contemplative practices through PSU's Personal Approaches to Transformation and Healing (PATH) Institute, which focuses on organizational transformation. Holba takes and teaches courses in the master's program in Personal and Organizational Wellness within the PATH Institute, which provides experiential and academic opportunities to study integrative health and healing concepts. Based on the growing awareness of mind, body, and spirit interactions in holistic healing and wellness, this program builds on the movement that influenced Congress in 1992 to establish what is now, the Center for Complementary and Alternative Medicine within the National Institutes of Health.
Holba will lead a lunch session for faculty and staff on "Shaping Contemplative Practice in the Classroom and Workplace: Personal Practice as a Starting Place" on Tues., April 7 at 11:30 a.m. in 397 CCIT. An RSVP is required for this event. Holba will also present "Mindfulness Leadership: How Student Leaders Can Approach Leadership with Intention, Awareness, and Compassion" from 6-7:30 p.m. in 397 CCIT. Additionally, she will visit with Leadership Studies students and candidates of the President's Leadership Circle.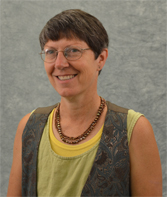 Dr. Janie Fritz
Spring 2014 Leader-in-Residence
Frostburg State University (FSU) hosted leadership expert Dr. Janie Harden Fritz March 3-5 for a series of events. Fritz served as the scholar in residence for one of the largest interdisciplinary minors at FSU, the Leadership Studies minor, and contributed to the university's efforts to develop leadership internally.

Fritz, who has a Ph.D. in Communication Arts from the University of Wisconsin, is director of the B. A. and M.A. programs for the Department of Communication & Rhetorical Studies at Duquesne University in Pittsburgh. Her research focuses on communicative practices that constitute, sever, and restore the ties that bind individuals to the institutions of which they are a part. She has served as a leader in communication associations at the state, regional, and national levels. She has written several journal articles and is the author of Professional Civility: Communicative Virtue at Work (Peter Lang, 2013), coeditor (with Dr. S. Alyssa Groom) of Communication Ethics and Crisis: Negotiating Differences in Public and Private Spheres (2012, Fairleigh Dickinson University Press), coeditor (with Dr. Becky L. Omdahl) of Problematic Relationships in the Workplace (Peter Lang Press, 2006) and Problematic Relationships in the Workplace, Volume 2 (Peter Lang, 2012), and co-author (with Dr. Ronald C. Arnett and Leeanne Bell) of Communication Ethics Literacy: Dialogue and Difference (Sage, 2009). She is also editor-in-chief of Listening/Journal of Communication Ethics, Religion, and Culture and editor of Qualitative Research Reports in Communication and Journal of the Association for Communication Administration. Fritz has been quoted in the New York Times, the Pittsburgh Post-Gazette, the Pittsburgh Tribune Review, the Reading Eagle, the Baltimore Sun, and a number of other national and regional media outlets regarding communicative processes in work relationships. She received the Eugene P. Beard Award for Leadership in Ethics from Duquesne University in 2007 among many other awards.

Fritz presented "Promoting a Culture of Citizenship in Student Organizations" on Mon., March 3 at 6:30 p.m. in the Atkinson Room in the Lane University Center on FSU's campus. The session was open to all students to help them develop leadership practices to organize their campus organizations. In addition, she spoke with students in Leadership Studies courses and deliver a keynote address about leadership ethics and organizational culture at a faculty and staff leadership development conference on campus on March 4 at 8:30am in the ARMAH.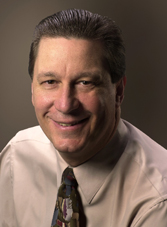 Dr. Ronald Riggio
Spring 2013 Leader-in-Residence
Frostburg State University (FSU) hosted leadership expert Dr. Ronald Riggio on March 7 and 8 for a series of events. He served as the scholar in residence for one of the largest interdisciplinary minors at FSU, the Leadership Studies minor, and his visit marked the launch of a leadership competency model that will highlight the university's efforts to educate and develop leadership internally. Developed with his assistance by a Leadership Task Force appointed by FSU President Dr. Jonathan Gibralter, the model, which captures the key indicators of how leadership is taught and developed, will help FSU as an organization to promote something it does well, leadership education and development.

Dr. Riggio is the Henry R. Kravis Professor of Leadership and Organizational Psychology and former Director of the Kravis Leadership Institute at Claremont McKenna College. Author of over 100 books, book chapters, and research articles in the areas of leadership, assessment centers, organizational psychology and social psychology, his most recent books include Leadership Studies (Elgar, 2011), The Art of Followership and The Practice of Leadership (Jossey-Bass, 2008, 2007), Applications of Nonverbal Behavior (co-edited with Robert S. Feldman; Erlbaum, 2005), and Transformational Leadership (2nd ed.), coauthored with Bernard M. Bass (Erlbaum, 2006). Dr. Riggio is an associate editor of The Leadership Quarterly and was the originator of the Shoptalk column at the Los Angeles Times, a Q&A column dealing with workplace problems and issues.

FSU faculty, staff, and students joined Dr. Riggio and the President's Taskforce on Leadership to officially launch the competency model and to discuss the next steps in the implementation of the model. In addition to assisting with the launch of the competency model, Dr. Riggio discussed transformative leadership and leadership ethics with students in leadership courses and was featured in a public session titled "Talking Leadership" on Thurs., March 7 at 7 p.m. in the Atkinson Room in the Lane University Center on FSU's campus. The session was open to student leaders to help them consider how to develop leadership within their campus organizations and classroom experiences as well as in leadership in life. Additionally, he spoke at the Sloop Institute for Excellence in Leadership, a leadership retreat featuring FSU alumni for competitively selected student leaders.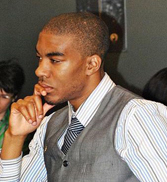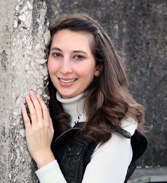 Jonna Huseman and Larry Williams

Spring 2012 Leaders-in-Residence

This year, a forum discussion, "To Occupy or Not to Occupy: Leadership in the Labor Movement," offered an opportunity to learn about the history of leadership in the labor movement as well as recent efforts, perceptions, and implications of organized labor and the Occupy movement. Stories and experiences from the Occupy movement as well as examples of jobs within the field of organized labor were shared. The guest leaders-in-residence both work within labor organizations and have experiences involving Occupy DC. Jonna Huseman, raised in a union family to be an advocate for workers' rights, spent three years as a communications specialist for the International Brotherhood of Teamsters (IBT). She majored in journalism at Wayne State College in Wayne, Nebraska, where she promoted human and labor rights issues as a writer for the student newspaper. She also organized the college's first ever Speak Out Week to Larry Williamsraise awareness about human rights issues locally and abroad. Larry Williams, a seasoned employee of IBT's Organizing Department, has led courses of more than 100 Teamster leaders and representatives from around the country at the IBT national organizing conference. He studies Business Technology at the University of the District of Columbia and completed a renowned course in Strategic Corporate Research at the Cornell University School of International Labor Relations taught by eminent professor Kate Bronfenbrenner. The forum included other panelists from FSU:
FSU senior Brett Shepherd, an active student leader who organized and founded Independent and Third Party Students, served as President of Residence Hall Association for more than two years, and organized the Frostburg: We Are The 99%, Facebook page, which led to an Occupy Wall Street rally last Fall for students and faculty to learn about the movement and share their beliefs. A mass communication major and communication studies minor, he currently serves on the board of the Central Atlantic Affiliate of College and University Residence Halls.
Jacob Hutton, vice president of FSU's chapter of Amnesty International, history major with a concentration in international history and minors in sociology and cultural anthropology.
Dr. Greg Wood, a History Department faculty member and member of the Leadership Studies Advisory Committee, who researches labor history.
Dr. Elesha L. Ruminski, chair of Communication Studies and coordinator of the Leadership Studies minor, who shared her perspective coming from a union family as well as her research on the gendered organizing rhetoric of the Teamsters.

As part of their visit to FSU, Huseman and Williams met with the President's Leadership Circle and participated in classroom discussions, including one in Kathy Powell's SOWK 471/Generalist Social Work Practice with Communities and Organizations course and another in Ruminski's CMST 345/Conflict Management course. A luncheon for faculty and staff was also held, featuring discussion about "Teaching Students to be Citizen Leaders" and how to engage students in experiential learning and leadership development activities.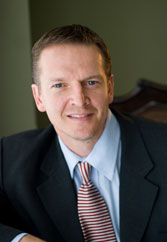 Dr. Shann Ferch
Spring 2011 Leader-in-Residence
Dr. Shann Ferch, an interdisciplinary scholar and leadership educator, is a professor of Leadership Studies with the internationally recognized Ph.D. Program in Leadership Studies at Gonzaga University. Ferch has published numerous scholarly articles and book chapters on servant leadership, forgiveness, reconciliation, and gratitude. In addition, he has published and received multiple awards for his short stories and poetry, which explore the nature of humanity with regard to violence and forgiveness. He also serves as a member of the Greenleaf Center for Servant Leadership's Speakers Bureau on the board of the Greenleaf Scholars Program and is the editor of the International Journal of Servant Leadership. Ferch has also served as a research psychologist with the U.S. Centers for Disease Control. He is currently a systems psychologist in private practice and a lead consultant for Leadership Spirit International.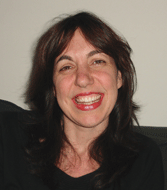 Liza Featherstone
Spring 2010 Leader-in-Residence
Liza Featherstone, a journalist based in New York City, has written about social justice activism, gender and the workplace, as well as politics and consumerism, the theme of a forthcoming book. A contributor to The Nation magazine, Featherstone also writes for Slate, The New York Times, and Columbia Journalism Review among other publications. She is the author of Selling Women Short: The Landmark Battle for Workers' Rights at Wal-Mart (Basic Books, 2004) and co-author of Students Against Sweatshops (Verso, 2002). She has been a Knight-Bagehot Fellow in Business and Economics Journalism at Columbia University and teaches at the City University of New York and New York University.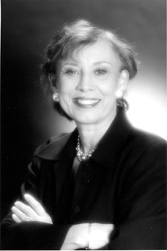 Juana Bordas
Fall 2008 Leader-in-Residence
Juana Bordas is president of Mestiza Leadership International, a company that focuses on leadership, diversity, and organizational change. She is a former faculty member for the Center for Creative Leadership (CCL), the most highly utilized executive program in the world, and is the current vice president of the board of the Greenleaf Center for Servant Leadership. Bordas holds an MSW from the University of Wisconsin and is author of Salsa, Soul, and Spirit: Leadership for a Multicultural Age (2007). Bordas was the Fall 2008 Scholar in Residence. Click for more information about Juana Bordas.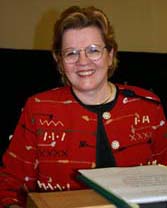 Dr. Susan Komives
Fall 2004 Leader-in-Residence
Dr. Susan Komives is an Associate Professor at the University of Maryland. She is a Senior Scholar at the James MacGregor Burns Academy of Leadership. She is also a co-author of Exploring Leadership: For College Students Who Want to Make a Difference.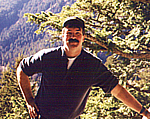 Dr. Jim Cain
Fall 2003 Leader-in-Residence
Dr. Jim Cain is the Executive Director of the Association for Challenge Course Technology. He is a manager of the Cornell University Corporate Teambuilding Program. He is the Director of Teamplay. He is the author of the book entitled Teamwork and Teamplay.
Click for more information about Dr. Jim Cain
.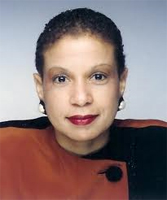 Dr. Lea E. Williams
Spring 2003 Leader-in-Residence
Dr. Lea E. Williams is an educator and author of Servants of the People: The 1960's Legacy of African American Leadership. Click for more information about Dr. Lea E. Williams.