Experiential Learning Documentaries
As seen at film festivals across the world, 'A Simpler Way' tells the story of four students as they journey to a remote village in Uganda to discover a radically simple solution to an urgent global problem.  What they find there changes their lives in unexpected ways.
A Frostburg State University Production in association with Water School and Interdependent Pictures.  The film explores the need for simple, affordable solutions to global development issues and the role of experience in meaningful, transformative education.
'The Vision Within' tells the story of a group of students who travel deep into the heart of the Amazon rainforest to meet an ancient 'dream culture' living today in much the same way that they have lived for thousands of years. As they return home from their journey they must find ways to integrate their profound experiences into meaningful, engaged lives in service of their own inner visions and the future of our planet.  The film is an exploration of the critical role that our inner visions can play in our lives, in education, and in awakening a socially just, environmentally sustainable future.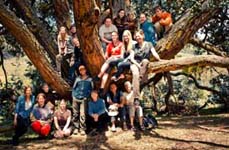 Credit to Mike Snyder for Photo's and Descriptions