My Favourite Things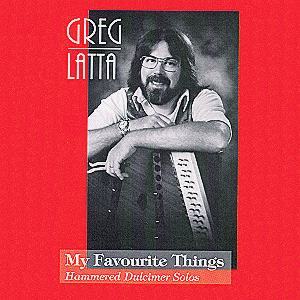 Greg Latta's recording "My Favourite Things" is a collection of Hammered Dulcimer solos featuring a wide variety of musical styles played on standard and soprano hammered dulcimers. The album includes Greg's arrangement of "My Favourite Things" from the Rodgers and Hammerstein musical "The Sound of Music". Greg's eclectic tastes are reflected in the variety of styles he has chosen for this collection. Traditional and Contemporary Irish tunes, a traditional American tune, an ancient Galician, or Celtic-Spanish piece, plus his arrangements of a Rossini theme, a Finnish polka, and a Beatles' tune, "Here Comes the Sun" are on the album. He has also included his own composition "Mid-Spring".
Contents:
1. (3:11) Maneo Da Ulla (Trad. Galician)
2. (3:00) My Favourite Things (Rodgers/Hammerstein)
3. (3:47) Lucy's Fling/S'iomadh Rud A Chunnaic Mi/Some Say The Devil Is Dead (Trad. Irish)
4. (3:27) Open House/Two To the Bar/Porter For Three (Burke/Graham), Soprano Hammered Dulcimer
5. (3:22) The Back Side Of Albany (Trad. Irish)
6. (2:05) Grandfather's Waltz (Trad. American)
7. (2:58) Mid-spring (Latta)
8. (2:42) The Theme From The Lone Ranger (Rossini)
9. (2:37) A Polka/A Finnish Polka/Jessica's Polka (Harris, Trad. Finnish, Hanly), Soprano Hammered Dulcimer
10. (3:51) Here Comes The Sun (George Harrison)
11. (3:15) The Boys Of Ballisodare (Trad. Irish), Soprano Hammered Dulcimer
12. (3:41) Hymne (Vangelis)

About the Artist:
Greg Latta is an award winning multi-instrumentalist and singer/songwriter who plays the hammered dulcimer, guitar, banjo, harmonica, recorder, and Appalachian dulcimer. He is an award winning 5-string banjo player, a three time Mid-Eastern hammered dulcimer champion, and two time runner-up in the National hammered dulcimer championships held at Winfield, Kansas.
Many Thanks:
To my wife Teddy, for her patience and understanding.
To Malcolm Dalglish and Kevin Burke, for the inspiration.
To WFWM, for all the great music and hours on the air.
To all of my friends and fans who have been so supportive.
Hammered Dulcimers:
15/14 Hammered Dulcimer by Michael C. Allen and Greg Latta
Soprano hammered dulcimer by Jim Hudson and Music on the Hill
Other Credits:
Photography by Denny Posrter
---
How to purchase "My Favourite Things":
"My Favourite Things is currently available at Main St. Books in downtown Frostburg, MD and at the Frostburg State University Bookstore on the campus of Frostburg State University. It is also available by mail order, or you can purchase the album at one of Greg's concerts. If you would like to be put on a mailing list to receive information on Greg's concert schedule, just send Greg an E-mail message at:
Be sure your message includes both your US Mail and E-mail addresses.
Mail Order:
"My Favourite Things" is also available by mail order for $16 (which includes taxes) plus shipping.
For more information on mail order, just click on the link below and print out the order form.
---
Questions, Comments, and E-Mail

If you have any questions or comments, you can send E-Mail to Greg and Teddy at glatta@frostburg.edu
This page is under constant revision. Please check back often.
---
Thanks for stopping by!

Back to Greg Latta Singer/Songwriter/Multi-Instrumentalist