Electronic T/R Switching and the Ameritron QSK-5
by Greg Latta AA8V

Main Page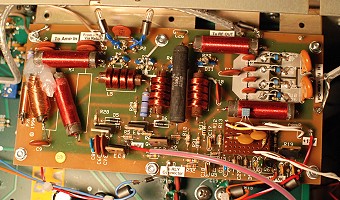 The Ameritron QSK-5PC Electronic T/R Switch
Click on the photo for a closer view.
Click here for a super detailed view.
Safety Note: Working on or testing the QSK-5 and associated circuitry may involve operating the amplifier containing the QSK-5 with the cover off. This is extremely dangerous since very high voltages are present when the amplifier is turned on, sometimes in close proximity to the QSK-5. If at all possible, do all work with the amplifier off and unplugged. The operator assumes all risk and liability in such matters! Never operate the amplifier with the cover off unless you are experienced with working around very high voltages!
Preamble:
When I decided to get a QSK-5PC with my Ameritron AL-572 amplifier, I did some checking on the web and in my personal library to learn what I could about QSK in general and specifically the QSK-5. What I found was that the subject was poorly understood. In particular some hams were blaming the QSK-5 for problems that were being caused by their transceiver and/or their lack of understanding of how to properly implement QSK with a high powered amplifier. I also found people making recommendations that were dangerous to themselves or to the equipment involved. After thoroughly researching the subject myself I decided to write these pages and hopefully clear up some of the confusion. I hope you find them useful.
---
Introduction:
At the end of 2012 I decided that I had been working exceptionally hard and that my reward would be a new linear amplifier. My trusty Heathkit HL-2200 worked fine, but I wanted to be able to work reliably on the 160m band during the summer, and the Heathkit amplifier did not have 160m on it. Modifying the Heathkit was not an option, since it was a classic amplifier in excellent shape, and modifying it might lower its resale value.
After a good amount of research I decided that an Ameritron AL-572 would fit my needs. This is a near legal limit amplifier that can put out 1000 watts on CW and 1300 watts on SSB (0.6 dB less than legal limit), can work all bands, and only needs about 70 watts of drive. The 572B tubes are also very reasonably priced, compared to the tubes used in the legal limit amplifiers.

Since my TenTec Jupiter has QSK capability, and I am 99% a CW operator, I wanted the amplifier to have QSK capability as well. I also thought that I might run some of the digital modes, and that fast transmit/receive switching in the amplifier would be an advantage.
I found that Ameritron made the stand-alone QSK-5 electronic T/R switch, and also the QSK-5PC circuit board, which could be mounted inside the AL-572 amplifier. My shack is a pretty busy place, and I decided to buy the QSK-5PC circuit board and mount it inside the amplifier.
When everything arrived, I did not immediately install the QSK-5PC. I wanted to initially operate the amplifier as it came "off the shelf" and get a feel for how it behaved without the QSK-5PC. I also knew nothing about electronic T/R switching, and I thought it would be a good idea to learn exactly how the QSK-5PC worked. By delaying the installation, I could hook up the circuit board to my bench power supplies and study it on my workbench. Trying to study the operation of the board once it was installed would be very dangerous, due to the very high voltages present inside the amplifier.
It was almost three weeks before I finally installed the QSK-5PC in the amplifier. During that time I learned a tremendous amount, and the result is these web pages. I hope you find them useful.
Greg AA8V
What is QSK?
Technically, QSK is a CW "Q" signal that means "Can you hear me between your signals and if so can I break in on your transmission?" In a practical sense it means "can you hear me between your individual dots and dashes?" A station with full QSK capability can hear what is on the frequency even while transmitting. If the receiving station wishes to "break in" they only need to start sending and the transmitting station will be able to immediately hear them and stop transmitting. QSK capability promotes a more conversational style of communication on CW, and is particularly useful on roundtables and nets.
When properly implemented, QSK operation is quite amazing. The operator gets the illusion that their sending is superimposed on what the receiver is receiving, without being aware that any transmission is actually taking place!
In practice QSK requires a receiver with very fast recovery and a fast transmit/receive (T/R) switch to switch the antenna rapidly between the receiver and transmitter. Many modern transceivers, especially those by TenTec, have QSK capability. QSK can also be done while using a linear amplifier, but it can be a challenge to get everything working properly. Only a few amplifiers come with full QSK capability built in, but QSK operation can be added to any amplifier by using an external unit, such as the Ameritron QSK-5, or by installing a built in unit, such as the Ameritron QSK-5PC.
What is electronic T/R Switching?
Electronic T/R switching is the use of an electronic system, rather than a conventional mechanical relay, to affect the necessary changes needed to switch a station from receive mode to transmit mode. It is completely silent and capable of instantaneous switching from receive to transmit mode.
What is the Ameritron QSK-5?
The QSK-5 is an electronic transmit/receive system for external RF amplifiers ("linear amplifiers") marketed by Ameritron that can operate at all CW keying speeds and that can be used for full QSK break-in operation if the driving transceiver is capable of such operation. It is completely silent in operation. The QSK-5 is a stand alone unit complete with power supplies and input/output connectors that can be used with any amplifier, while the QSK-5PC is the internal RF electronics circuit board of the QSK-5 without power supplies and without any supporting cabinet or connections. It must be installed inside and must be powered by the host amplifier. A photo of the QSK-5PC is shown below: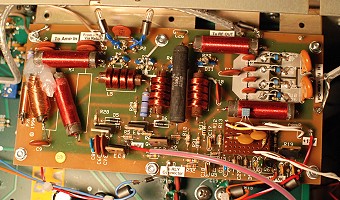 The Ameritron QSK-5PC Electronic T/R Switch
Click on the photo for a closer view.
Click here for a super detailed view.

Back to Dr. Greg Latta's Electrical Engineering and Amateur Radio Pages
---
Questions, Comments, and E-Mail

If you have any questions or comments, you can send E-Mail to Dr. Greg Latta at glatta@frostburg.edu
Thanks for stopping by!