Employee Development & Leadership Series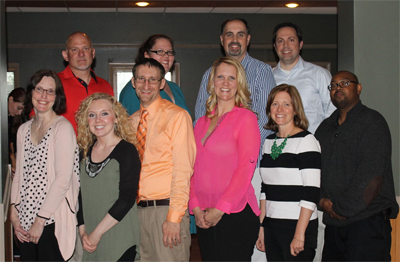 In 2014, the Office of Human Resources, in collaboration with the College of Business, established a development and leadership series for high-performing staff and faculty at Frostburg State University. This initiative provides up-and-coming leaders at FSU with the knowledge and skills they need to be successful in their current roles and prepares them for potential leadership roles in higher education.
The series consists of eight workshops each focusing on a different topic and outcomes identified in collaboration with current campus leaders. Through panel discussions and presentations provided by division leaders, participants learn about the different divisions and structures of FSU and the University System of MD.
The Goals of the Series
Enhance participant knowledge, skills, and competencies in leadership while developing their ability to manage change.
Improve supervisory skills, methods and practices.
Increase the individual's awareness of his/her supervisory style and develop/increase the ability to adapt to different styles of behavior.
Raise awareness of conflict styles and effective approaches to conflict resolution.
Build a fundamental understanding of current employment, labor laws and regulations that impact the workplace.
Assist in developing the ability to manage an increasingly diverse workforce and assist in fostering an inclusive workplace environment characterized by fairness, understanding and mutual respect and civility.
Qualifications
Staff or faculty
3+ years professional work experience
Application materials
We encourage interested, high-performing individuals and their supervisors to discuss the relevance of this series to the employee's development and to submit an application for consideration no later than April 24 to the Office of Human Resources.
Members of the FSU Learning and Organizational Development Committee will review applications and select participants. Participants will be notified of their acceptance into the series by mid-May.
The cohort will consist of a mix of staff & faculty members. Sessions are scheduled for 3rd Wednesday of each month from 8:30 a.m. to 2:00 p.m. Attendance at all sessions is required. Adjustments due to weather or other extenuating circumstances may occur.

EDLS Brochure