Leadership Retreat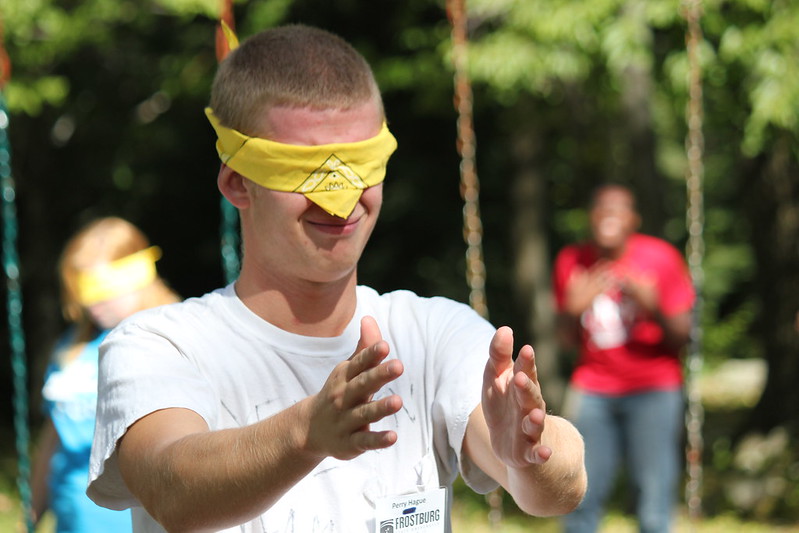 The Leadership Retreat is an annual fall event where first-year students are presented with the opportunity to become acclimated to the leadership 'climate' of Frostburg State University. By engaging in activities designed to build upon individual strengths and facilitate group skills, students are given the opportunity to become more cognizant and effective as leaders. This program also serves as a platform for positive mentorship by connecting first-year students with faculty and staff in addition to seniors from the President's Leadership Circle.
One Weekend Developing Leaders
GOALS
Introduce topics of effective communication, teamwork, problem-solving, inclusivity and fun to participants while underscoring their importance as student and student leaders.
Provide meaningful time to reflect on the student leadership experience.
Create a positive connection between the students and the University through relationships with other students, faculty, and staff.
Encourage students to move outside of their comfort zones and try new things.
What will students do at the Leadership Retreat?
Students participate in a series of ropes course activities as well as team-building activities and group challenges. Participants will have ample time to bond with each other to build positive relationships through social time, group meals, board games, and an evening bonfire.
When and where does the Leadership Retreat take place?
The Leadership Retreat is a weekend-long excursion to Camp Allegheny in Stoystown, PA. Never fear - all participants are housed in cabins with beds, showers, electricity, and hot water. 
Why should you attend the Leadership Retreat?
Students learn about FSU and make connections in the FSU community
Students become more resilient and learn how to conquer fears