Diana L. James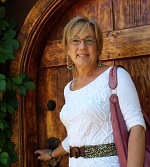 Class of 1974
Diana James, age 65, talented artist, passed away with strength and grace, surrounded by loving friends, after an extended illness, Monday, July 31, 2017 in Albuquerque, N.M. She graduated from Frostburg State University in Maryland with a B.A. in Art Education. A lifelong learner, at age 56, Diana received her MFA from the Academy of Art, San Francisco in 2013. Her Master's thesis was a series of paintings of female architypes using gold leaf which inspired her company, "Brushed with Gold."

Fearlessly, Diana James embraced opportunities to grow and experience life. She worked as an art instructor near her hometown, Aberdeen Maryland. Diana moved to Chicago and received commissions from celebrities for faux painting and restoration projects. Diana created set design for theater companies, including the Marriott Lincolnshire, Drury Lane and Light Opera Works. Diana was hired to decorate the villa of Cardinal Francis George as well as the Bears' Lake Forest Headquarters. The Chicago Historical Society awarded Diana the prestigious commission to paint trompe l'oeil on walls for the project commemorating the 1893 Chicago World's Fair Columbian Exhibition.

Diana moved to Kerrville, Texas to take care of aging family members. She accepted an art instructor posting at the Museum of Western Art and worked as an adjunct professor at Shriner University. Her paintings were featured in the River's Edge Gallery.

During the 1980's Diana lived in Albuquerque, New Mexico and the high desert landscape irresistibly drew her back. She returned to Albuquerque in September, 2014. Diana was thrilled to be selected as the 2016 artist for the annual "Run for the Zoo" fundraiser. Posters and billboards throughout Albuquerque featured Diana's whimsical and charming graphic design of primates. Diana crossed the finish line with runners from around the country wearing her tee shirt design.

Diana James' bold decisions to live in different parts of the country were inspired by her thirst for experience, her love of nature and her selfless responsibilities of family nurturing.

Diana once told a reporter, "The relationship between the physical wildness of the earth and the vulnerability of its creatures has always fascinated and inspired me to draw and paint…I've been captivated by animals, trees and big skies. Life and seeing beyond the man-made has been my tonic."

Diana trained as a docent at the ABQ BioPark (Zoo) and volunteered at the Walking 'n Circles Ranch (WNCR) horse rescue organization.
Diana was also a talented singer, poet and a reflective diarist. She had the rare quality of living in the moment and her quiet joy was evident---she delighted in the smiles and energy of the children in her art classes, was devoted to her schnauzers Kizzie and Sylvie, her cat, Dillon and her horse, Spirit. Animals and her friends responded to Diana's spirit---introspective, patient, inquiring, gentle, brave and unbound.