Dr. J. Hopwood "Hop" Wooddell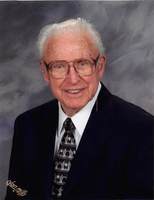 Dr. Joseph Hopwood Wooddell died peacefully at the Oakland Nursing and Rehabilitation Center on Wednesday, June 21, 2017, with his beloved wife of 37 years, Karen, by his side. "Hop" was born on March 7, 1918, in Webster Springs, W.Va., to Sallie Maria Kildow and Bantz Slaven Wooddell.
He attended schools in Webster Springs and Oakland. Hop became an Eagle Scout in Oakland Troop 1. After high school, Hop enrolled at Frostburg State Teacher's College. World War II curtailed his studies and he proudly served his country as a Captain in the United States Army Air Corps. After the war, Hop graduated valedictorian of the class of 1949 from Georgetown University School of Dentistry. During his 30 years of dental practice in Hyattsville, he advocated for the fluoridation of the public water supply in Prince George's and Garrett counties to prevent the rampant cavities in children. In 1996, he established the Dr. J. Hopwood and Karen Wooddell Scholarship at Frostburg University for Garrett County High School graduates.
Upon retirement, Hop and Karen dedicated their time to preserving the Victorian homes and the history of Mountain Lake Park, where Wooddell Park is named in his honor. He was a proud member of the University of Maryland Terrapin Club, the Greater Washington Dental Study Group, Frostburg State University's Old Main Society, St. Matthew's Church, the VFW, ELKS, American Legion Proctor Kildow post 71, and a vestry member of All Hallow's Church.
Hop is survived by his wife, Karen of Mountain Lake Park; children, Cynthia Snowie (Allan) of Bellingham, Wash., Sallie Stuart of Las Vegas, Nev, Pamela Wooddell of Eugene, Ore, Susan Campbell (Kenton) of Washington, D.C. and Dr. James Wooddell (Nancy) of Davidsonville, Cynthia Witte (Kenneth) of Mountain Lake Park, and William Gass Jr. (Michelle) of Harwood; nine grandchildren and five great-grandchildren; a niece, Kathryn Gonder Maes (Lee) of Oakland and a nephew, Matthew Wooddell (Rita) of Roanoke, Va.
In addition to his parents, Hop was preceded in death by his sisters, Mary Helen Mumma and "Kitty" Gonder; a brother, Matt Wooddell; first wife, Lt. Christine Yeager Wooddell and a nephew, Father David W. Gonder.