Francis "Jake" Carrington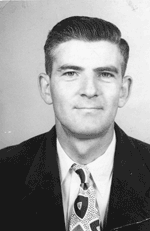 Class of 1943
A message from his family
Francis "Jake" Carrington was born July 19, 1917, in Waterbury, Ct. He graduated from Wilby High School in 1937. During World War II, he worked in a munitions factory. He married Martha "Marty" Eby (Class of 1944) of Thurmont, Md. in 1943. That same year, Jake graduated from Frostburg State Teachers College. He then studied at Western Maryland College toward a Masters in Education.

He taught Health and coached sports at Beall High School for two years and Central, in Lonaconing, for two years until the end of World War II.

Jake went back to elementary teaching and taught at Eckhart School, Hill Street School, Beall Elementary and retired as a sixth grade teacher from Frost Elementary in 1979.

His priorities were God, family and sports. He was the father of three daughters: Christina, Rebecca and Maria. He passed away May 23, 1997.