Joseph M. Ellis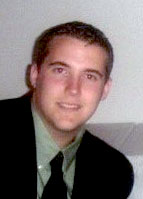 Class of 2008 - Delta Zeta Sweetheart

A message from his family
Joseph Michael Ellis, born January 14, 1986 in Washington DC, lived in Keedysville, Md. Joseph graduated from Boonsboro High School in 2004. While at FSU, he majored in Business Administration, Law and Society, and Political Science. He lived his life to the fullest and loved every minute at FSU. He was tragically taken from us February 3, 2008.

Joseph touched many lives in his 22 years with his warm smile, friendly attitude, and how he always took time to speak a friendly word. Everyone who knew him will forever sadly miss him.

Joseph's activities while at FSU included: Student Government Association - Liaison Chair, Senator At-Large; Student Center for Volunteerism - Liaison Chair, Treasurer; Delta Sigma Pi - Vice President of Finance, Chancellor, Vice President of Pledge Education, Founding Member, Social Chair; Delta Zeta - Sweetheart; Edgewood Community Council - Vice President, Treasurer; AmeriCorps - Community Resident Assistant; Keedysville UCC Church - Treasurer, Deacon; Finance Club; Relay for Life - Chair; American Student Government Association; Edgewood Commons Judicial Board - Justice; College Democrats; South County Democrats; and Keedysville Ruritans.