Mark Myers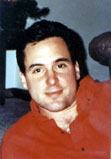 Class of 1990

A message from the Contributors
We know that nothing
That is loved is ever lost,
And no one who has ever
Touched a heart
Can really pass away
Because some beauty lingers on
In each memory of which
They've been a part.

Mark wore many hats: Son, Grandson, Brother, Godfather, Nephew, Cousin, Fannie Mae Mortgage Analyst, Builder, Frostburg State University Master's Business Administration Program Recipient, Landlord, Entrepreneur, and Friend.

The final hat Mark wore is that of an Indiana organ/tissue donor, and now others have the opportunity to see what Mark saw and would have seen in the future.