Patricia Ballentine Dolan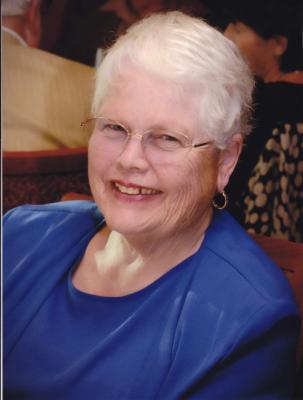 Class of 1964  - Alpha Xi Delta

A message from the Contributors: 
(Barbara Renick Graves, Lois Hobbs, Patricia Vranas Land-McCauley, Mary Katherine Reddick Preikszas, Mary Ellen Cunningham South, Margaret Morley Yates, and Linda Zerfing)
Patricia Ballentine Dolan was born May 2, 1942 in Worcester, Massachusetts, the youngest of the four children of Ralph and Veronica Ballentine. She grew up in a large, loving family comprised of her parents, siblings, grandparents, aunts, uncles and cousins, and they continued to share and make family memories throughout her life. Her school days in Worcester ended in 1958 when her father accepted a position in Washington, D.C. moving the family to Bowie, Maryland. Patty and her New England accent enrolled at Northwestern High School in Hyattsville, graduating in 1960.
In the fall of 1960, Patty and close high school friends entered their freshman year at Frostburg State Teachers College. During her college years, Patty was well- known on campus as her role as yearbook photographer gave her license to capture campus life among students and faculty alike. This role, in addition to her warm, outgoing, witty personality, made her a familiar individual on campus. Everyone knew Patty, faculty and staff as well as her fellow students. She was an active member of Alpha Xi Delta Fraternity, the Women's' Recreation Association (WRA) and the Newman Club, in addition to her major in Secondary Social Studies Education. The connection to Frostburg lasted beyond her college years through life long friendships and her active participation as an alum.
Upon her graduation from Frostburg in 1964, Patty began her 37-year career as a Social Studies teacher in Prince Georges County Public Schools. During her teaching career, she was active with the National, Maryland and Prince Georges Councils for Social Studies. She was recognized for her leadership in developing creative programs for students and teachers. Pat maintained a special relationship with the Holocaust Museum in Washington, DC, working on a series of projects that sent her to Israel to share the work with Israeli and Palestinian students and teachers. Her work as an educator continued after her retirement as she served on the Education Committee for the City of Bowie. As a professional, Pat was always a model of lifelong learning for her colleagues, her students and her community.
The real loves of her life were her husband, Dr. Ronald Dolan, their two children and their spouses, and their five grandchildren. After meeting Ron at a party, they both immediately recognized their common faith, their desire for family and a mutual passion for public service. Married in 1968, they moved to the Philippines in 1970 where Ron was stationed in the Navy. Douglass was born in 1970, and Kathleen arrived in 1974 after the family returned from their duty abroad. In 1976, the family settled on Narrows Lane in Bowie, Maryland where they raised their family. Pat and Ron taught their children to love learning and encouraged them to explore the world. They traveled extensively as a couple and as a family making each experience a learning adventure. The arrival of grandchildren brought a joyful dimension to their life. They developed the fine art of grand parenting always celebrating the accomplishments of their growing family.
Pat and Ron were active in their faith, serving their church and the community it served in countless ways, participating in retreats, Rites of Christian Initiation of Adults, Cursillo and ministry to the homebound and those in nursing care. This was one of the many values and actions they shared as a couple. The strength of their faith allowed them to face her diagnosis of stage four cancer with a dignity and resolve to make every day count. Patty was always an educator. Patty was always a giver. Her legacy was to share, support, and love. Even in the most challenging time of her life, she was able to do this with grace, with humor, and with love for all she touched. For this she will always be remembered and loved. Could there be a better legacy for a Frostburg Bobcat?