Patrick McKenna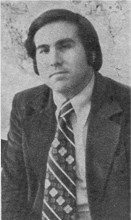 1952 - 1976
He was built like an athlete standing 6'1" and weighing approximately 200 pounds, but Patrick McKenna was not blessed with the coordination one who is actively engaged in sports must have. That did not deter him from being a champion of what he considered the "good life." Pat, possessor of an extraordinary personality, was one of the most popular individuals on the campus at Frostburg State College. In 1976, Bob Wells, the Bobcats' veteran baseball coach, eulogized him in these words, "Pat McKenna was the most un-selfish person I have ever met. His concern was not for himself but for others." Following the 1972 season, the Bobcats lost their campus field to new construction in the area. As a result they played the next several years off campus on various, rough playground-like fields. Pat took it upon himself to turn these fields into playable surfaces spending countless hours improving them. After a night of rain, Coach Wells often arrived at 6 a.m. to check field conditions, only to find Pat already there hard at work.
In the early 1970s, Pat worked with Coach Wells for five years as a team manager - four as a student, and one while he was in graduate school. "Pat was more than a manager," says Wells, "his character left an indelible imprint on our team."
After graduating from FSC, Pat stayed close to Bob Wells and helped coach the Bobcat Jayvee team. He was a history teacher at Salisbury Elk Lick High School in Salisbury, PA and resided in Frostburg at the time of his death. Pat was reticent by nature but was a fun-loving person when around his baseball buddies and close friends. He had a way of keeping the team loose when things weren't going right. Former baseball players will never forget an incident involving him during Fall practice at the town's old Community Park. "It was a miserable evening weather-wise," Coach Wells recalls. "It was chilly and then began to rain. We held up practice and took refuge but most of the players were feeling depressed. They all wanted to be someplace else. Pat recognized the wretched mood of the squad and took it upon himself to change it. Even though he was wearing street clothes, Pat went out in the rain and began doing a pantomime like those that helped make Joe E Brown famous in the movies. Pat stood at the plate imitating a batter swinging at an invisible ball. He pretended to get a hit. He took off around the bases sliding in the mud at second on a make believe steal, getting to third on another "theft" and finally making it safely home on a skid across the plate. We cheered his show from start to finish and needless to say, the mood of the players changed dramatically with that performance!"
In the early morning of August 25th, 1976, a fire swept through the residence occupied by Pat and several of his baseball comrades on Main Street in Frostburg. Pat suffered from smoke inhalation and burns and died a few days later at the Burn Center of University Hospital, Baltimore.
In death, Pat will never be forgotten by the family, friends, and teammates whose lives he touched so profoundly.