William J. "Flash" Faherty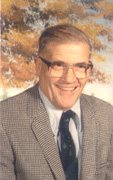 Class of 1953
A message from the Contributors
Flash devoted his adult life to teaching, and was appreciative of getting his start at Frostburg State Teachers College where he graduated first in his class. He loved sports and served as manager of teams in college, As a high school teacher, he became an athletic director and followed area sports extensively. The Catholic Church was always important in his life, and at the end of his teaching career, lie was happy to go back to his hometown and serve St. Peter's School.
Biographical Information
Born February 1, 1923 in Westernport.
Graduate of St. Peter's High School, Westernport.
Served in the U.S. Army in India during World War II.
Graduate of Frostburg State Teachers College, 1953.
Married Gladys Wensel of Oakland, 1954.
Studied at the University of Maryland, Fairmont, Cornell, and Wake Forest.
Taught Mathematics at Allegany High School in Cumberland, MD, 1953-1983.
Principal of St. Peter's School, 1985-1992.
Died February 1, 1992 in Westernport MD.