Sports Wrap-up
Jun 30, 2021 12:00 PM
Jun 30, 2021 12:00 PM
The COVID-19 pandemic disrupted Bobcat sports in a number of ways, including no teams competing during the fall semester. However, our student-athletes were able to get back into competition in early 2021, undergoing frequent COVID testing and rigorous health and safety measures to ensure the well-being of all players, coaches and staff. Our student-athletes have many reasons to be proud of their resilience and dedication, which was on full display during competition in the 2021 spring semester.
(Sports are recapped below categorized by the season they would play in normally.)
Fall Sports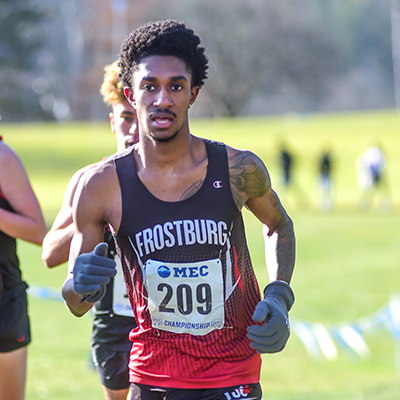 MEN'S CROSS COUNTRY
Highlight: Clark earns First Team All-MEC.
Recap: The Bobcats finished fifth overall at the Mountain East Conference Championships, led by senior Braxton Clark finishing in 10th place overall, earning All-MEC First Team. Senior Devin Horseman-Guy finished 23rd, first-year Justus LeProvost earned 33rd, sophomore Daniel Foster took 35th and junior Brennen Tomassoni finished 36th. The team also placed second at the Davis & Elkins Invitational in its only other meet.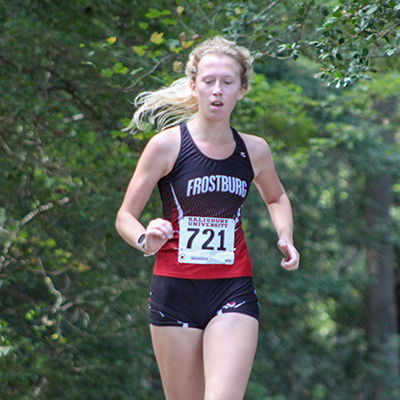 WOMEN'S CROSS COUNTRY
Highlight: Muir earns Second Team All-MEC.
Recap: Frostburg showed promise for the future in its two meets this year. The season was headlined by impressive first-year Hannah Muir, who finished 19th at the MEC Championships to earn All-MEC Second Team honors. Muir also earned 18th overall in the five-team Davis & Elkins Invitational, with sophomore Isabel Pereira finishing 27th, fellow junior Haley Benedictis earning 30th and senior Emilee Fierro in 35th.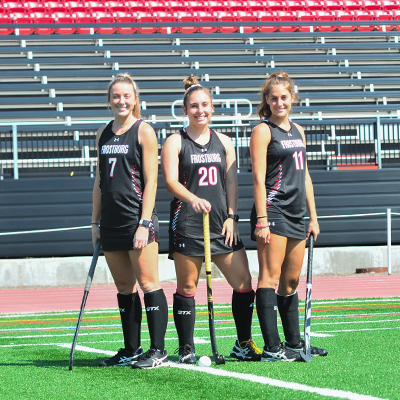 FIELD HOCKEY
Record:1-3
Highlight: Bobcats earned a 5-2 home win over Mercyhurst.
Recap: Without a conference at the Division II level, head coach Kaitlin Thompson was able to play out four games this year against tough competition. Senior Brooke Lafayette and first-year Heidi Van Dyk led the team with two goals apiece, while senior Sam Coffey and sophomore Taylor Henderson each got a goal. Senior Gabby Rachuba led the team in assists with two, rounding out her impressive career.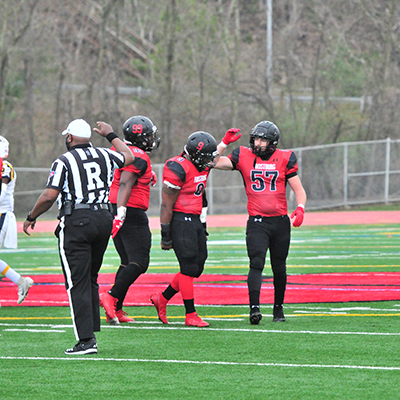 FOOTBALL
Record:3-1
Highlight: Strand named MEC Defensive Player of the Year.
Recap: In a season of just four games, Frostburg showed once again that it is a force at the Division II level. Finishing second in the MEC North Division, the Bobcats combined a stout defense with an explosive and efficient offense. Standout senior defensive end Zach Strand was named Defensive Player of the Year in the MEC after leading the league in solo tackles for loss with seven and sacks with four. Strand was one of seven Bobcats named First Team All-MEC, joining grad transfer wide receiver Kyle Belack, junior fullback Nate Forte, sophomore linemen Gottlieb Ayedze and Greg Gaines, senior defensive end Carl Igweh and senior linebacker Jake Broschart. Redshirt first-year tight end Will Hall and junior linebacker Dylan Culpen earned spots on the Second Team, while first-year quarterback Graham Walker, senior wide receiver Malik Morris, sophomore lineman Brandon Dillard, first-year linebacker Ryan Shelton, senior punter Shawn Bliss and sophomore kicker Dayne Koontz earned an Honorable Mention nod.
MEN'S SOCCER
Record:2-6
Highlight: Adam earns Second Team All-MEC.
Recap: The attack showed flashes of potential, with a front three of senior Randy Putnam, sophomore Tamino Brown and junior Vaughn Phillips creating havoc. Junior midfielder Daniel Juresic led the team with two goals, while senior midfielder Will Macomber ended his FSU career with a goal and his first career assist. Gage Adam was a stalwart in defense, earning the Bobcats' lone All-MEC spot on the Second Team.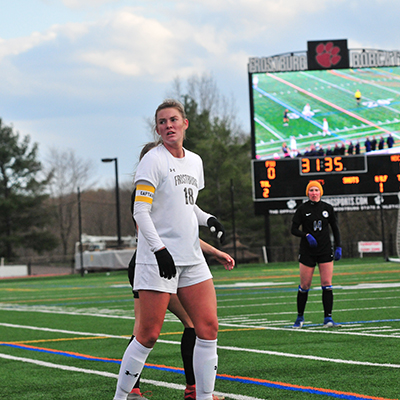 WOMEN'S SOCCER
Record:6-1-2
Highlight: Bobcats hosted MEC Tournament Semifinal game.
Recap: The team's best record percentagewise since 2012 combined a rock-solid defense and midfield with an opportunistic attack. FSU went undefeated in its own division and lost just once in regular season play, earning the conference No. 2 seed and the right to host a semifinal game at Bobcat Stadium. Junior defender Abbey Dennis and junior forward Audra Curtin earned All-MEC First Team honors, with Dennis playing the most minutes on the team at the heart of the back line and Curtin tying the team lead for goals with four and adding an assist. First-year midfielder Caroline Burton earned Honorable Mention and fellow first-year Toni Fiocco-Mizer landed on the All-MEC Freshman Team after leading the team in assists with three.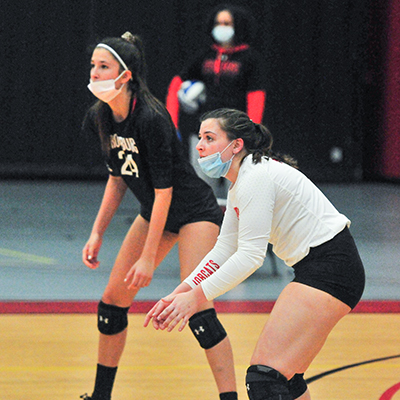 VOLLEYBALL
Record:0-10
Highlight: Braun earns MEC Honorable Mention and All-Freshman teams.
Recap: Head Coach Kylie Heyne entered her first season at the helm, leading a young team through a strong MEC field. First-year outside hitter Beverly Braun earned a place on the All-MEC Honorable Mention and Freshman teams, as she led the attack with 101 kills and showed defensive prowess with 96 digs, second on the team behind sophomore libero McKenna Houser's 113. First-year outside hitter Laken Michael also impressed in attack, finishing second on the team in kills (71) and blocks (21).
Winter Sports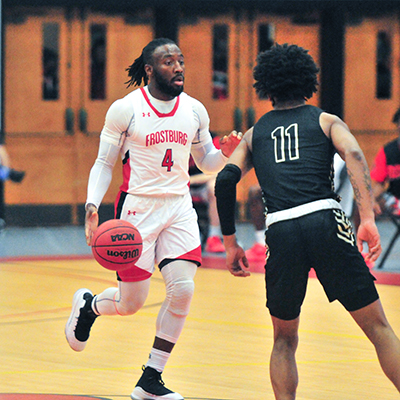 MEN'S BASKETBALL
Record:4-12
Highlight: 77-71 home win over No. 20 West Virginia State
Recap: In its first full season played in the newly renovated Bobcat Arena, Men's Basketball had a new-look roster after dipping into the transfer pool. Junior Agyei Edwards and graduate Canaan Bartley provided numerous highlight-reel performances, while the team as a whole provided entertaining basketball all season. Sophomore point guard Jaylon Johnson impressed in leading the offense, including dishing out the second most assists (six) for the team in a game in the big home win over West Virginia State.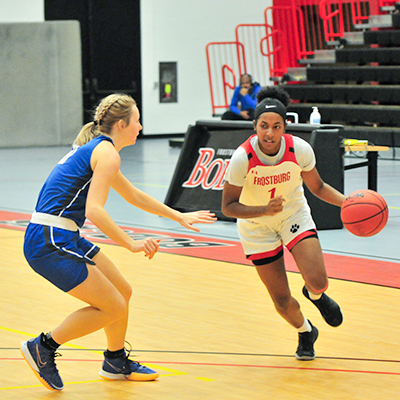 WOMEN'S BASKETBALL
Record:2-14
Highlight: First-year Ford hit two free throws with 26 seconds left to win the season opener at Davis & Elkins.
Recap: Junior Morgan Dombroski came into her own this year, leading the team in nearly every offensive category, while finishing second in rebounds on her way to earning Honorable Mention honors from MEC. Sophomore Ciara Thomas showed growth in her game at the point guard position, sharing duties with first-year Brenae Ford, who was one of the team's best defenders. Sophomore Arianna Briggs-Hall and first-year Rhiana Hall provided toughness and enthusiasm, with both consistently improving throughout the year.
MEN'S SWIMMING
Record:1-4, third place in MEC at GMAC/MEC Championships
Highlight: Giuseppetti named MEC Swimmer of the Year.
Recap: A season in which results don't tell the full story, the team blended experience with youth to break a number of team records and finish with its best performance to date at the Division II level. Senior Anthony Giuseppetti rounded out a fantastic career by earning the second-most points at the conference championship meet, placing first among MEC swimmers in the 500 freestyle and 200 backstroke and helping two relay teams to MEC victories. First-year Andrew Creelman earned MEC Freshman of the Year honors, setting three team records and finishing with the most points among freshmen swimmers at the conference championships.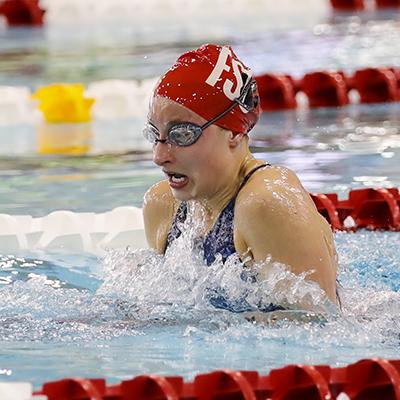 WOMEN'S SWIMMING
Record:2-3, fourth place in MEC at GMAC/MEC Championships
Highlight: A 122-121 win over Fairmont State to earn a 2-1 start on the year
Recap: First-year swimmers stepped up to the plate this year, with the team led by youth and aided by experience. Early season wins over Salem and Davis & Elkins provided a strong start, as first-years Francesca Crevoiserat, Cali Kobasiar, Summer Mastandrea and Liz Perry all impressed in their debut seasons. Seniors Megan Hendershot and Sarah Moneypenny provided experience on relays, as did junior Aubree Morris.
Spring Sports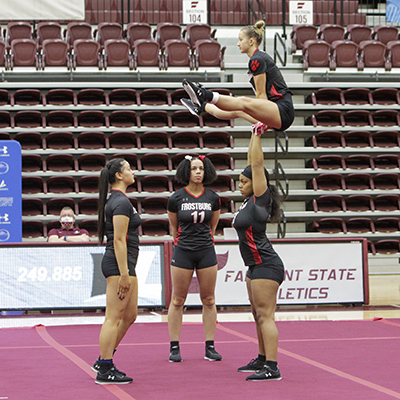 ACROBATICS & TUMBLING
Record:2-4
Highlight: Inaugural team won five event finals at MEC Championships.
Recap: The inaugural season of Acrobatics & Tumbling was quite successful for the new program. The team was able to capture two wins in the regular season to qualify for the MEC Championships, becoming the first Frostburg State athletic program to do so. The Bobcats performed well in their postseason appearance, picking up five event final victories. First-year Abbie Baker capped an impressive season with First Team All-MEC honors, while fellow first-years Alexis Palmieri and Laiken Spahr earned Second Team honors.
BASEBALL
Record:14-25 (12-19 in MEC)
Highlight: A top-five offense in most major categories
Recap: Junior Bryce Jackson had a breakout year, tying for first in the conference in RBI (45) and tying for second in home runs (10) on his way to earning Second Team All-MEC honors. Joining him on the Second Team were senior Ryan Roell and junior Jack Maruskin, with Roell tying for third in the conference in doubles (12) and Maruskin hitting the second-most triples (four) in MEC. Junior Andrew Smith earned Honorable Mention, having played all over the field for the Bobcats as a utility player.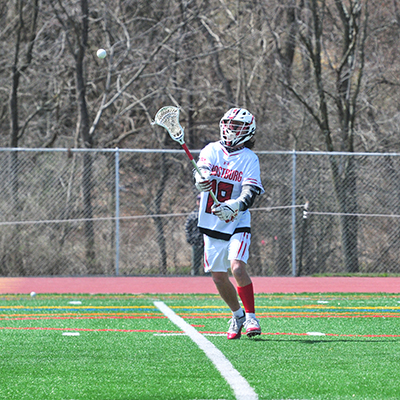 MEN'S LACROSSE
Record:
6-2 (2-0 in ECC)
Highlight:
Bobcats reached No. 12 in a national poll.
Recap:
The Bobcats produced another strong year at Division II, with the only two losses coming by a combined three goals to a top-10 Seton Hill team. Standout senior defender
Garrett Colvin
earned ECC Defensive Player of the Year honors, while being named an honorable mention All-American, an honor he shared with redshirt sophomore
Tanner Donaldson
. Colvin and Donaldson joined graduate
Paul Ruppert
in earning First Team All-ECC honors. Sophomore
Bubba Love
was named ECC Rookie of the Year, joining seven other teammates on the All-ECC second team
WOMEN'S LACROSSE
Record:10-5 (8-2 in MEC)
Highlight: Women's Lacrosse became the first Frostburg program to reach MEC Championship game.
Recap: After years of tough competition at Division III, the team enjoyed a breakout season at Division II, using a potent offense to make it all the way to the MEC Championship. The team did an excellent job of blending youth with experience, with seniors Stephanie King and Summer Cavey placing first and second, respectively, in the conference in points. King also tied for the MEC lead in goals (42) and Cavey led the conference in assists (24). Both earned First Team All-MEC, joined by first-year attacker Anna Kearney and junior defender Mackenzie Cramer. Sophomore attackers Cammie Schniedwind and Lilly Stephens were joined by junior defender Emma Neff on the All-MEC Second Team, with senior midfielder Lindsay Kohlmann earning Honorable Mention. Kearney was joined by first-year goalkeeper Whitney Crosby on the All-Freshman Team.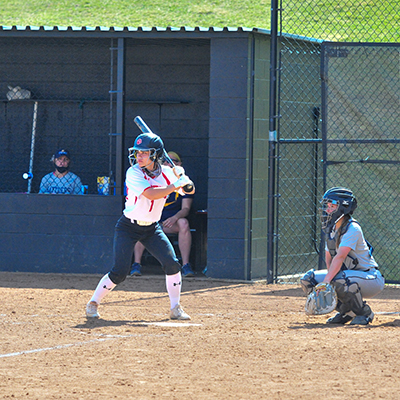 SOFTBALL
Record:25-17 (20-12 in MEC)
Highlight: Softball team reached MEC Tournament Semifinals.
Recap: It was a historic season for Frostburg State softball in its first full season at the Division II level. After starting the season 0-3, the team went on a tear, going 21-5 over the next two months of the season. Sophomore pitcher Shawna Leonard was stellar in the circle for the Bobcats, posting a 1.68 ERA, the third-best single-season ERA in program history. Leonard struck out 15 batters in a win on March 30 over Alderson Broaddus, which tied the program record for strikeouts in a seven-inning game. Leonard earned Second Team All-MEC honors alongside senior Kat Treff, who was second on the team with a .341 batting average this season. The team set a new program record for stolen bases in a season with 80, breaking the previous record of 69 set in 2019. Sophomore Bri Powell led the way in that department, going a perfect 28-for-28 in steals during the season.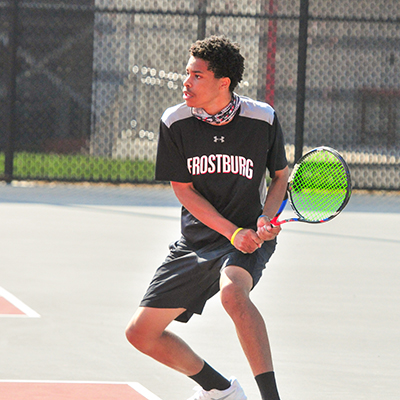 MEN'S TENNIS
Record:1-9 (1-5 in MEC)
Highlight: Grear named to All-MEC Second Team.
Recap: First-year Origen Grear made a statement in his first season with the Bobcats, posting several solid performances en route to earning All-MEC honors. Grear was a mainstay in No. 1 singles for much of the season, helping pace the Bobcats to a victory over West Virginia State on March 27. The doubles pair of Mason Hordubay and Tim Goldring also performed well, picking up several victories this season.
WOMEN'S TENNIS
Record:2-8 (1-5 in MEC)
Highlight: 4-3 win over Davis & Elkins for first win of season
Recap: Sophomores Elizabeth Hixson and Jen Dieterle had strong showings during singles play this season. Each won her respective singles matches in a 4-3 victory over Davis & Elkins on March 26, a win which was sealed by two victories in doubles competition. Dieterle, who typically competed in No. 6 singles play, moved up to No. 5 singles and earned a win against St. Mary's (Md.) on April 24.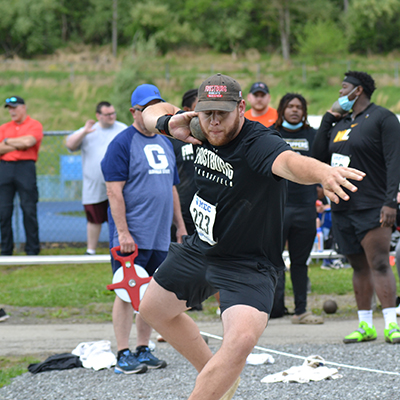 MEN'S TRACK & FIELD
Highlight: Kerns sets MEC Championships record in hammer throw.
Recap: It was a big year for the throws group for the men's Track & Field team. Senior John Kerns set the MEC Championships meet record in the hammer throw with a 54.36-meter toss, earning him the win in the event. Senior Michael Belcher had a stellar season, earning seven victories, including first place in the discus at the MEC Championships. First-year Nicholas Richardson paced the Bobcats in the track events this season, earning three victories in the 400 meters.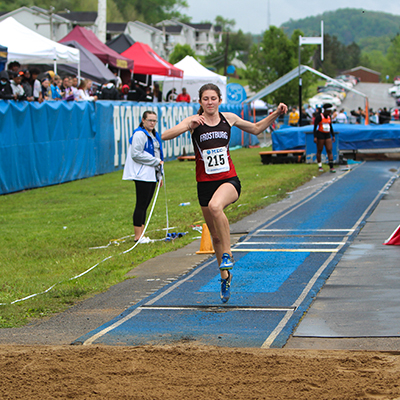 WOMEN'S TRACK & FIELD
Highlight: Mullery landed four first-place finishes.
Recap: First-year Alyssa Mullery earned four wins this past season, two of which were in the 100 meter hurdles and the other two in the triple jump. The four wins were the most of any Bobcat in the track events on the men's or women's side. First-year Hannah Muir built off her success from the cross country season. She earned a win in the 5K at West Liberty and set a personal record in the event at the Charleston Invite with a time of 19:47.72.