B.S. in Engineering at Cecil College
About the Program
This collaborative program allows you to earn a Frostburg State University Bachelor of Science in Engineering degree with a materials engineering concentration while taking courses close to home.
Start by completing an A.S. or A.S.E. degree in Engineering from one of these community colleges. Then finish your four-year degree through FSU at Cecil College.
FSU offers courses onsite and via distance learning for students at Cecil College to complete the Bachelor of Science requirements.
Accessible - Earn your B.S. degree close to home
Affordable - FSU has one of the lowest tuition rates in the state of Maryland
Transfer Friendly - Credits taken at community college applied toward the B.S. degree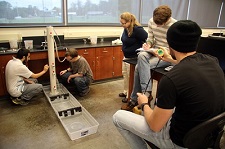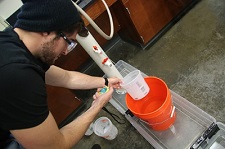 Students conducting Fluid Mechanics lab on the flow rate of water through different nozzle sizes
Department of Physics & Engineering
Compton Science Center
101 Braddock Road
Frostburg, MD 21532
Crystal Frantz, Administrative Assistant


 301-687-4298


 cafrantz@frostburg.edu
Dr. Jamil Abdo, Chair
Department of Physics & Engineering


301-687-7026


jabdo@frostburg.edu