State of Maryland Wellness Newsletter 9/23/2020
Sep 23, 2020 12:00 AM
This Season a Flu Vaccine is More Important than Ever!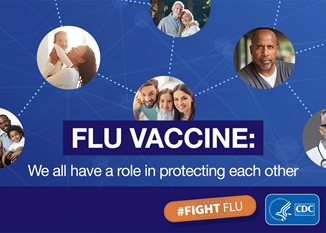 Getting a flu vaccine is more important than ever during 2020-2021 to protect yourself, your family and your community from the flu. A flu vaccine this season can also help reduce the burden on our healthcare systems responding to the COVID-19 pandemic and save medical resources for care of COVID-19 patients. September and October are good times to get a flu vaccine.
Flu Facts:
People with the flu can spread it to others up to about 6 feet away.
The flu spreads mainly by droplets made when people with the flu cough, sneeze or talk. These droplets can land in the mouths or noses of people who are nearby.
People can also get the flu by touching a surface or object that has the flu virus on it and then touching their own mouth, nose, or their eyes.
This year, State of Maryland is offering 2 primary options for safely and conveniently getting your flu shot at no cost to you:
Call your doctor's office to schedule an appointment or
Visit your local retail pharmacy--appointments are usually not needed. And, good news: Effective 10/1/2020, you can use your CVS Rx card at retail pharmacies for your flu shot!
Did you miss the live FLU AWARENESS webinar last week?
Want to learn more Flu Facts and How to Stay Safe This Flu Season? View the recorded version
And, don't miss this week's LIVE WEBINAR: BOOST IMMUNITY
In addition to social distancing, washing hands, and getting your flu shot, there are some things that you can do (and eat) that will support your immune system so that you can fight winter colds and the flu. Learn more in this live webinar!
WHEN: Thursday, September 24, 2020
TIME: 11:00 AM
REGISTER For Boost Immunity Webinar
Another great way to support your immune system as it fights diseases like the flu is to understand how conditions like diabetes (metabolic syndrome) and back issues impact your ability to fight infections like the flu. These 2 upcoming Healthy U courses will deepen your knowledge and help you to consider what lifestyle changes can help you stay healthy during the flu season.
9/23/2020, 11:00 am: Diabetes Risks (Metabolic Syndrome)
Are you at risk for diabetes? It's easier for people with diabetes to get infections like the flu because high blood sugar levels can weaken the immune system. Learn more about metabolic syndrome and how to prevent diabetes in this session.
Metabolic Syndrome Registration
9/30/2020, 11:00 am: Healthy Backs
Chronic pain creates a response that lowers the body's ability to fight infections like the flu. Back pain is the second most common cause of disability in the US. Learn how to prevent and manage back pain in this session.