December 2020 Wellness Newsletter - Healthy Holidays Edition!
Dec 2, 2020 9:00 AM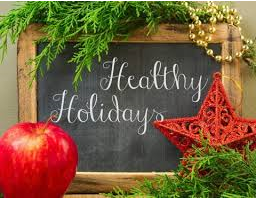 We all know that this holiday season is going to be different than winter holidays of the past because of the pandemic. Knowing this doesn't make it easier, though. The good news is that there are ways to celebrate our traditions and stay safe at the same time. The Centers for Disease Control and Prevention (CDC) offer these suggestions:
Have small celebration dinners with only the people who live in your household.
Connect with friends and loved ones who don't live with you via a Zoomoliday! Each family can use Zoom to share virtual dinners and recipes with others. While you eat dinner simultaneously, share stories of holidays past and your hopes for the future.
It's estimated that 30% of holiday shopping will be online. However, if you must venture out, always follow the 3 W's: Wear your mask, Wait 6 feet apart while in line or in the aisles, & Wash your hands and the surfaces that you touch frequently.
Didn't get your flu shot yet? It's not too late! You can now use your CVS card for a no-cost flu shot at any retail pharmacy, like Walgreens and Rite Aid. So, if a CVS pharmacy is not conveniently located near you, you've got options!
Take care of yourself! Holidays before the pandemic could be hectic and stressful as we juggled work, family, hosting holiday parties, shopping, and baking. This year may not be as hectic but that doesn't mean it's not stressful. COVID presents entirely new stressors, such as health and financial concerns, loneliness, and sadness about the loss of our holiday traditions.
Read more for resources to help you deal with Holiday Stress:
DECEMBER WEBINARS!
5 Webinars on How to Manage Holiday Stress
Sleep Like a Baby - The Holiday Edition - 12/3 at 11:00 am
COVID-19 continues to cause a great deal of anxiety, and anxiety is a major cause of sleep disruption. There is a term for this: coronasomnia. Add in the stress of the holidays, and we've got major sleep issues. In this webinar, you will learn soothing strategies for achieving a night filled with visions of sugarplums!
Register for Sleep Like a Baby Holiday Edition
Finding Your Fitness - Winter Blues Edition - 12/9 at 11:00 am
Winter cold and shorter daylight can make us feel gloomy. It's fairly common to feel this way. For some people, it can be worse and turn into depression. Medical researchers encourage everyone to engage in 30-60 minutes of moderate exercise every day and spend at least 20 minutes outside in the sunlight when the weather permits (yes, it's cold, so bundle up!). Learn more about how to offset the gloom of winter in this interactive live webinar. 
Register for Finding your fitness during winter blues
Healthy Holidays During COVID - 12/10 at 11:00 am
The holidays can be stressful, especially during COVID. Healthy eating, exercising, and managing stress can be a challenge. Learn tips that can help make the holidays more enjoyable. We'll cover stress management/mindful techniques, eating healthy, fitting in fitness, and COVID safety during the holidays. 
Register for Healthy Holidays during COVID
Reducing Sugar Intake During the Holidays: Healthy Holiday Baking - 12/16 at 12:30 pm
The holidays can be a time of So Much Food! Learn ways to "healthify" the holidays by sneaking in added fiber, fruits, and even veggies to the treats that you love. No one will know the difference!
Register for Reducing Sugar Intake
Dealing with Holiday Stress and Emotional Eating - 12/17 at 11:00 am
We're feeling lots of different emotions this holiday season, and while a cookie or two is fine (especially if you are doing healthy holiday baking), sometimes we eat more than we should because we're trying to fill an emotional need and/or to reduce stress. Learn how to identify hunger vs. emotional eating and strategies for managing stress and emotions more healthfully.
Register for Dealing with Holiday Stress
December is Healthy Holidays Month - Visit the SOM Wellness Website for information!