GC-FSU Agreement Provides for Baccalaureate Partnership in Adventure Sports Management
Oct 12, 2018 3:25 PM
Garrett College and its largest transfer partner, Frostburg State University, have signed a Memorandum of Understanding (MOU) establishing the foundation for a collaborative Bachelor of Science degree program in Adventure Sports Management. The agreement also provides students with a clear pathway from an associate degree to a baccalaureate degree, utilizing the resources of both institutions.
Dr. Richard Midcap, Garrett College's president, praised the work of Dr. Ron Nowaczyk, FSU's president, and his team for their roles and investment in the partnership.
"One of the first things I learned after coming to Garrett College in 2017 was the special relationship that exists between GC and Frostburg State University," Midcap stated. "I appreciate President Nowaczyk's commitment to this relationship and for all that he's done in his tenure at FSU to strengthen and expand our partnerships."
Midcap added that Wednesday's signing at the Wisp Resort is another example of that relationship in action, one that benefits both institutions, and more importantly, the students both schools serve.
"This agreement not only provides for a collaborative B.S. degree program, it also includes provisions that encourage graduates from GC's associate in applied science degree in adventure sports to transfer to FSU and complete a baccalaureate degree," he said.
Garrett College recognized Dr. Qing Yuan, dean of academic affairs; Mike Logsdon, Adventuresports Institute executive director and professor; Terry Peterson, associate professor of adventure sports, and Scott Richardson, program coordinator of adventure sports, for their involvement and work on the partnership with FSU.
While the B.S. degree in Adventure Sport Management will be delivered at Frostburg State University (FSU), students majoring in the Adventure Sport Management program will take a series of required courses at Garrett College. As a result, students will be able to complete the requirements for the degree in four years.
Nowaczyk also expressed appreciation to Midcap and his staff at Garrett College, noting the GC-FSU agreement is reflective of the partnership among higher education institutions in Western Maryland.
"This agreement demonstrates our shared commitment to providing residents of Western Maryland the educational vehicle to further their life ambitions and careers," said Nowaczyk adding, "This is also an opportunity to attract students from other regions and states to study and learn in Garrett and Allegany counties."
On behalf of the commitment of the two schools, Nowaczyk explained GC and FSU are now able to develop a workforce that can further expand and enhance the region's tourism and outdoor-lifestyle industries, all while being "responsible stewards" of state funds.
"We are providing multiple pathways to success with a B.S. in adventure sports management, along with clearly defining how the two institutions will work together," he explained. "We are delivering an educational degree while keeping the needs of the students at the forefront."
"The adventure sports degrees our institutions offer prepare students to go anywhere – or stay home and work in our beautiful, four-season resort region," added Midcap.
Wisp Resort program coordinator Tom Sheaffer holds adventure sports management degrees from both GC and FSU, and has been a member of the Wisp Resort team since 2015.
"The education and knowledge I learned through the adventure sports management program allowed me to be able to utilize those skills right away," noted Sheaffer. "Tourism is one of the largest growing industries worldwide. I've found that having a bachelor's degree in a field you are passionate about opens the door for many possibilities and is very beneficial."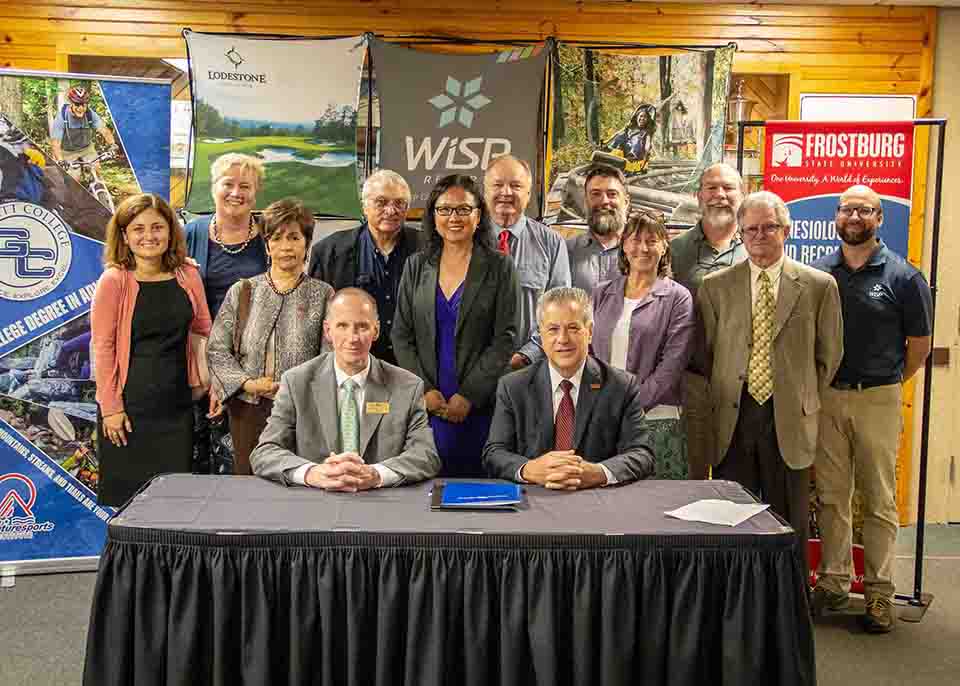 Front row from left are Dr. Richard Midcap, GC President, and Dr. Ronald Nowaczyk, FSU President. Second row from left are Dr. Natalia Buta, Acting Assistant Dean, FSU College of Education; Dr. Doris Santamaria-Makang, FSU Associate Provost; Dr. Qing Yuan, GC Dean of Academic Affairs; Terry Peterson, GC Adventure Sports Associate Professor; and Jerry Geisler, Wisp Resort General Manager. Back row from left are Dr. Kim Rotruck, Acting Associate Dean, FSU College of Education; Dr. Robert Kauffman, FSU Professor of Recreation and Parks Management; Mike Logsdon, GC Director of Adventure Sports; Andrew Hershey, FSU Adventure Sports Management Program Coordinator; Scott Richardson, GC Adventure Sports Program Coordinator; Tom Sheaffer, Program Coordinator, Wisp Resort, and graduate of GC-FSU adventure sports management program.