Bobcats Roar at Tony Awards
Jun 17, 2022 9:00 AM
By Ty DeMartino '90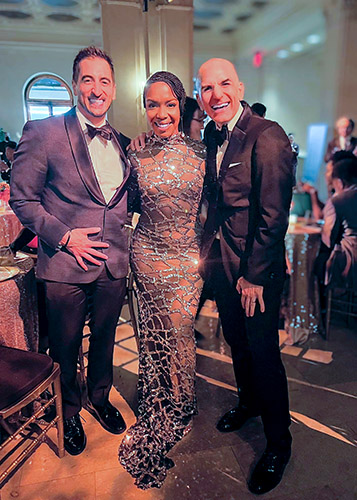 On Broadway's biggest night, a chance meeting brought three Frostburg Bobcats together for a mini-reunion at the 75th Annual Tony Awards.
While Sean Cercone '99, president/CEO of Broadway Licensing, and one-time Bobcat Jeff Keilholtz, vice president of Broadway Licensing, were enjoying the evening at the Tony afterparty with their dates, they stumbled upon another familiar Frostburg face, actress Jessica Frances Dukes. The reunion was a scene worthy of a Neil Simon play.
"Jeff and I were there together as several of our shows were nominated," said Cercone. Their shows included Take Me Out, which won the Tony for Best Revival of a Play. "My wife stopped to compliment this woman's beautiful dress. As I turned around, the woman looked at me and said, 'Sean?' I yelled, 'Dukes?' She yelled, 'Sean!' I yelled, 'DUKES!'"
Dukes, who has gained fame for her portrayal of Special Agent Maya Miller on Netflix's Ozark, was recently seen on Broadway in Alice Childress' Trouble in Mind, which was also nominated this year for Best Revival of a Play. Dukes and Cercone had not seen one another since an on-campus FSU acting class but have followed one another's careers. All three celebrated finding their long-lost Frostburg buddies.
"Needless to say, there was a lot of screaming and yelling and jumping around. Jeff heard the commotion and came running over, and there were three Frostburg theatre kids jumping up and down in the middle of Tony madness and mayhem."
Cercone is quick to celebrate the strong foundation they received at Frostburg, as they celebrated Broadway and the Burg. "I'm just so proud of us all. We all wanted to express our gratitude to our FSU theatre professors – Linda McCulloch, Mairzy Yost-Rushton, Richard Kagey. We would not be living these amazing lives and careers without the opportunities they provided us and knowing they believed in us all. Love-love-love!"
Love, indeed.