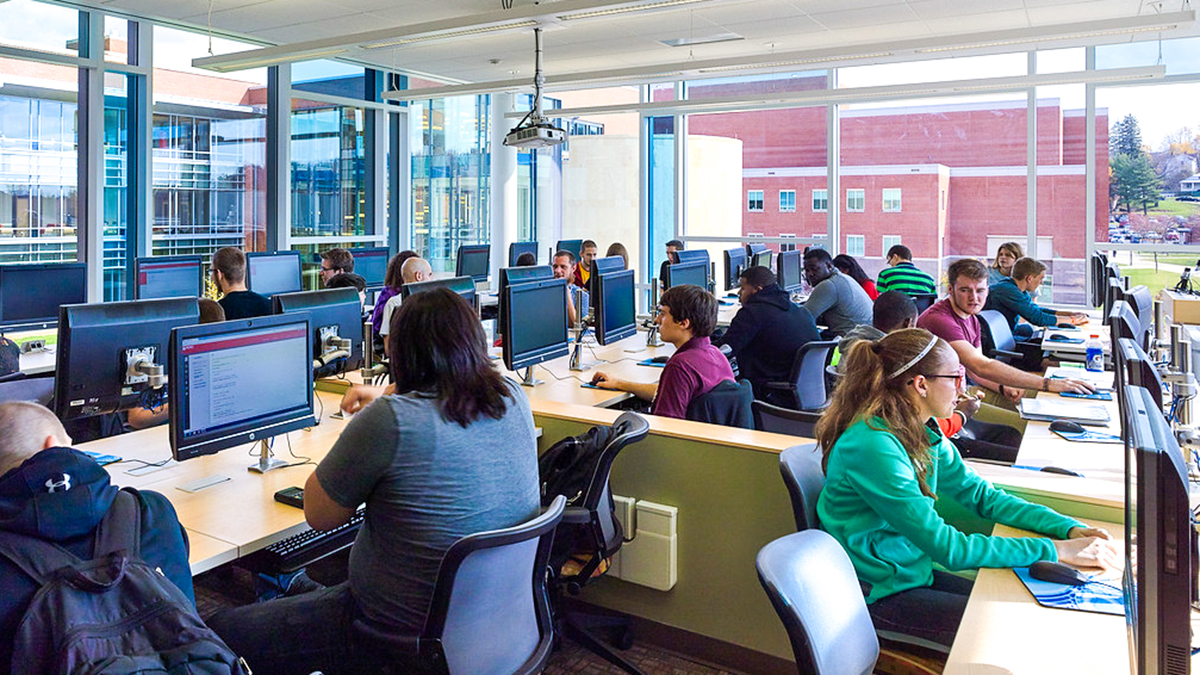 Explore Our Degrees
The need for computer professionals is growing world-wide. Frostburg State has a variety of options to help you find just the right path to a career in this booming industry, including undergraduate and graduate degree programs. From programming and software to databases and cybersecurity, you have numerous options for a fulfilling career.
Undergraduate Programs
B.S. in Computer Science
The Computer Science program focuses on a theoretical understanding of computer science and the practical application of knowledge obtained to solve a problem. With applications in every industry, computer science is one of the most in-demand and growing fields. Graduates will be able to solve challenging, often unexplored software problems in fields such as research and development, healthcare, government, defense, telecommunications, and finance using a unique set of programming languages, tools, and problem-solving skills.
Learn more about our B.S. in Computer Science
---
B.S. in Secure Computing and Information Assurance
(Cybersecurity)
The Secure Computing and Information Assurance program addresses the national shortage of cyber security professionals in government and private industry. The SCIA program focuses on the importance of securing all forms of technology used by an organization (communications, software, networks, data, and information). Graduates will be prepared to help organizations prevent security breaches by integrating off-the-shelf and custom security measures to existing security procedures. Security best practices are explored in all areas of computing.
Learn more about the B.S. in Secure Computing and Information Assurance
---
B.S. in Information Technology
The Information Technology program focuses on how technology - both hardware and software - is used to enhance an organization. Information Technology is utilized in a variety of industries such as business, accounting, education, and government, and graduates will be prepared with advanced problem solving, project management, and troubleshooting skills.
Learn more about the B.S. in Information Technology
---
B.S. in Computer Information Systems
The Computer Information Systems program focuses on the theoretical and applied understanding of how data and information are stored and manipulated in and across organizations. With a specialized focus on organizational data, students take business courses and have an enhanced understanding of data and information management for businesses. Graduates will be able to program databases and various support systems (expert systems, decision support systems, transaction processing systems).
Learn more about our B.S. in Computer Information Systems
---
Graduate Programs
M.S. in Applied Computer Science
A master's degree in applied computer science prepares you to enter a diverse range of careers including everything from computer and information research science or computer network architecture to becoming a computer programmer, computer system analyst, database administrator or web developer.
You have the option to specialize in a database concentration or a general computer science specialization offering broad, applied knowledge of computer networking and communications, software engineering, artificial intelligence and web design. You will work on real computer science challenges faced by businesses and government agencies.
Learn more about a M.S. in Applied Computer Science