College Students
The Frostburg Community Coalition was officially founded in December 2011 with the specific mission to address underage and high-risk consumption within Frostburg, Maryland. Prior to our Coalition's founding, efforts to combat high-risk drinking were focused on the college student population at Frostburg State University. However, there has been a long-standing yet informal history of a partnership maintained by FSU, city officials, local law enforcement agencies, and community health experts to address high-risk behaviors in the community.
FSU has adopted and implemented strategies including a brief motivational interview screening tool for student violators of the University's alcohol policies, targeting educational outreach programming to high-risk populations such as first-year students, student athletes, and Greek affiliated students, and messaging students residing in the community about city ordinances and policies regarding noise and litter. The campus has managed more than two-dozen evidence-informed practices to combat high-risk behavior to purposefully decrease harms associated with grain alcohol and binge drinking.
Over the course of 6 years, FSU's comprehensive strategies have produced documented reductions in binge drinking by 13% across a randomized population. Research from the Core Alcohol and Drug Survey indicates that FSU's binge drinking rate fell from 54% in 2006 to 41% in 2012. Additionally, total reported alcohol usage (30-day consumption rate) demonstrated a 12% reduction, from 76% in 2006 to 64% in 2012, as reported in the Core Alcohol and Drug Survey.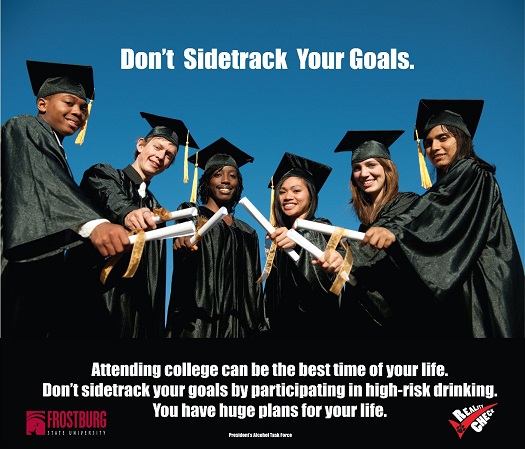 Education and Awareness
Frostburg State University wishes to establish a culture of alcohol and health awareness that actively supports, educates, and empowers students to make low-risk choices about alcohol consumption. In collaboration with the Coalition, we have employed a comprehensive, environmental strategy utilizing prevention, engagement, and deterrence to connect students and the university community with innovative, evidenced-based, student-centered alcohol awareness programs.
For more information, please visit our Reality Check website