Davis Given Frostburg State University President's Distinguished Faculty Award
Apr 19, 2021 11:35 AM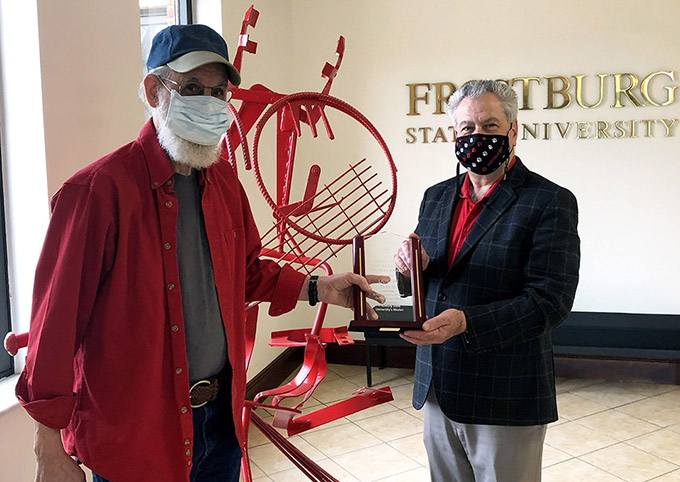 Dustin Davis, a professor emeritus in Frostburg State University's Department of Visual Arts, has been selected as the eighth recipient of the President's Distinguished Faculty Award, which was presented during a recent virtual meeting of the University faculty and staff.
This award recognizes a faculty member who has provided exceptional service to the University and has advanced its mission, goals and strategic planning initiatives.
"Dustin Davis should be noted particularly for the generous and supportive mentoring relationships he developed with visual arts students and his active role in the vibrant life of the Department of Visual Arts," said FSU President Ronald Nowaczyk. "He embodies the qualities we seek to recognize through this award."
Davis was a member of the Visual Arts Department from 1972 until his retirement in 2020. He also served as director of what became the Stephanie Ann Roper Gallery for the entirety of his tenure.
Davis served as the chair of the Department of Visual Arts for a total of 18 years. He has been active in leadership roles in the local arts community, including with the Allegany Arts Council since the 1970s.
Through his teaching and guidance of BFA candidates during their capstone experiences, Davis facilitated the success and quality of innumerable senior exhibitions. He has guided the department's scholarship process and overseen biannual all-campus student shows. In 1992, he was selected as an Outstanding Arts Educator in Maryland by the Maryland Alliance for the Arts.
His creative career is highlighted by numerous exhibitions of and awards for his work in sculpture, including invitational shows at such prestigious sites at the Walker Art Center in Minneapolis and The Renwick Gallery in Washington, D.C. He has been awarded numerous grants over the years for creative projects. He created the University mace that is used during Commencement and other ceremonies.
Davis was also instrumental in making possible the gifts of artwork from Shirley and Nick Giarritta that are now displayed across campus.