Cooper Given Frostburg State University President's Distinguished Staff Award
Apr 20, 2021 11:35 AM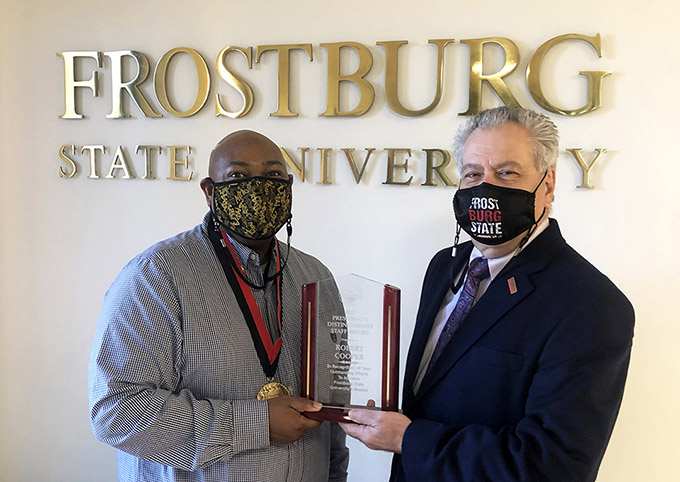 Robert Cooper, director of Student Activities and Fraternity and Sorority Life at Frostburg State University, has been selected as the third recipient of the President's Distinguished Staff Award, which was presented during a recent virtual meeting of the University faculty and staff. 
This award recognizes a staff member who has provided exceptional service to the University and has helped to advance its mission, goals and priorities. FSU awards the President's Distinguished Staff Award in recognition of the countless ways that staff support Frostburg's excellence. 
"Robert Cooper is a true 'servant leader,' both behind the scenes and out front, making a difference in the lives of our students, said FSU President Ronald Nowaczyk. "'Coop,' as he is known to many, leads by example, never seeking positional recognition, but always at the core of countless student life initiatives that help so many of our students succeed on campus and in life." 
Cooper has helped to increase enrollment and student retention on this campus while providing leadership for initiatives that make a favorable impact on the campus community. He serves as a leader in the campus orientation program representing student affairs; he teaches the Introduction to Higher Education course for first-year students; he provided key support to Enrollment Management's efforts to create a new online student interview program for incoming students; he advises students and spends countless hours counseling students through a myriad of academic and personal crises. 
Cooper has launched innovative student activities to promote engagement and well-being, and his influence in ongoing initiatives shows in their success, such as coordinating the President's Leadership Circle and SOAR leadership programs, leading initiatives like the Fall Welcome Back program and the Student Organization Fair or revamping the Late@Lane late-night series. 
Cooper also fosters community relations to help strengthen ties between FSU and the city of Frostburg. He is actively involved with the downtown community and serves as the University liaison and implementer for the annual city of Frostburg Block Party. 
"He is one of the most unrecognized retention tools this campus has in its inventory, especially when it comes to serving our minority student population, and he is an authentic leader of high integrity who every day is making a difference in the lives of our students and this campus community." Nowaczyk said.