FSU Police and Frostburg City Police Raise Money Participating in "No-Shave November"
Nov 18, 2021 11:00 AM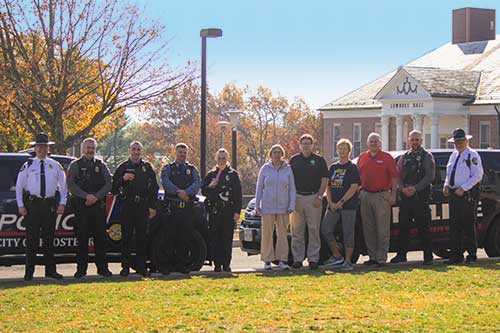 The Frostburg State University Police have teamed up with the Frostburg City Police for "No-Shave November" this year to raise money for the Holding Hands for Haley Foundation. They plan to continue their fundraising through the end of December.
No-Shave November is a nationwide campaign started years ago devoted to growing cancer awareness and raising funds to support cancer prevention, research and education. Over the years law enforcement agencies joined the efforts and during the month have gone away from their clean-shaven policies to allow officers to grow beards. Officers donate the estimated money it would typically cost on shaving and grooming toward a cancer charity.
This year, the FSU Police and Frostburg City Police chose to support a local organization to assure the donations stay local and help local pediatric families dealing with cancer. The Holding Hands for Haley Foundation's mission is to raise awareness and funds for pediatric cancer research and to spiritually, financially and emotionally support families of children who are fighting cancer in Allegany County or any of the contiguous counties. Since 2016, the Foundation has financially helped over 30 local families that have a child with cancer. The financial assistance to those families totals nearly $50,000. Additionally, thousands of dollars have been sent to cutting-edge research facilities looking for a cure for the deadly disease. You can find additional information about the Holding Hands for Haley Foundation online.
If you would like to donate, please send a check made payable to F.O.P. Lodge #147 to Captain John C. Ralston, Jr., 101 Braddock Road, Frostburg, MD, 21532.