Athletic Training Education Program
Welcome
We are glad that you are visiting our site and encourage you explore our program. Below is a brief overview of our exciting new Athletic Training graduate program. If you have further questions, please feel free to contact us.
NEWS FROM FSU ATHLETIC TRAINING
The UNDERGRADUATE athletic training program at Frostburg State University is no longer enrolling admitting students. However Interested students may enroll in a new combined 5-year Exercise and Sport Science Bachelor's and Athletic Training Master's program. Students with an earned Bachelor's degree in a related field and meet the admissions requirements, may enroll in a 2-year Master's degree in Athletic Training program. For more information or clarification, please contact Dr. Durst at jrdurst@frostburg.edu.
Contact Us
Dr. Jackie Durst
Department of Kinesiology and Recreation
259 Cordts PE Center
301.687.4497
jrdurst@frostburg.edu
WHAT IS ATHLETIC TRAINING?
Athletic training encompasses the prevention, examination, diagnosis, treatment and rehabilitation of emergent, acute or chronic injuries and medical conditions. Athletic training is recognized by the American Medical Association (AMA), Health Resources Services Administration (HRSA) and the Department of Health and Human Services (HHS) as an allied health care profession. Athletic Trainers (ATs) are health care professionals who collaborate with physicians to provide preventative services, emergency care, clinical diagnosis, therapeutic intervention and rehabilitation of injuries and medical conditions. For more information, visit the National Athletic Trainers' Association.
UPDATES TO ATHLETIC TRAINING EDUCATION REQUIRES A
MASTER'S DEGREE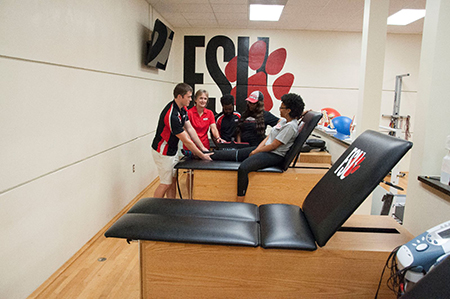 Changes to the certification process for athletic trainers has changed. The current Standard for Professional Athletic Training Programs is: CAATE accredited professional athletic training programs must result in the granting of a master's degree in Athletic Training. For more information on the change in regulations, visit the CAATE website.
Students currently enrolled in the athletic training undergraduate program will be allowed to continue their current course of study.
Students who are interested in this course of study have the option to enter a combined 3-year Exercise and Sport Science Bachelor's to 2-year Athletic Training Master's degree program.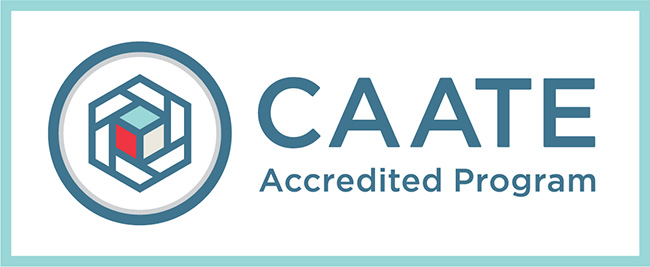 Accreditation
The undergraduate Athletic Training Program at Frostburg State University is accredited by the Commission on Accreditation of Athletic Training Education (CAATE). The program is currently applying to the CAATE for a change in level of degree. Frostburg State University is no longer accepting students into the undergraduate athletic training program. The last undergraduate cohort is expected to graduate in May 2021.