Religious and Spiritual Engagement on Campus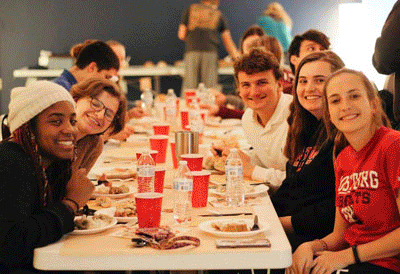 At FSU, we think your college years is about more than what happens in the classroom. It's about what happens inside of you as you figure out who you are, what you are capable of, and what you are meant to do in the world. We are committed to offering you a variety of opportunities that will help you explore these questions.  Our Religious Life groups and community seeks to support these important life questions as they relate to your faith tradition.
If you have no faith tradition, you are invited to learn about religion and spirituality through special events, informal conversation, and small groups which meet on campus throughout the academic year.  All conversation partners are welcome.
Religious Life Opportunities
We offer formal and informal events and civic engagement that challenges our students, our faculty, and our staff to reflect on their responsibilities for the common good. FSU currently has 12 unique Religious Student Organizations. When you participate in religious life events and organizations you will find a safe place to ask questions, meet new people, engage in community action and ultimately grow spiritually. 
Religious Life opportunities include activities such as weekly denominational groups, discussion groups, and other small groups, Bible studies, community service groups, social events, periodic interfaith events, as well as special emphasis weeks, retreats, guest speakers, and more.
The chaplain's office can help you find the best group for you or like many others you may become part of several groups.
Cook Chapel
Cook Chapel is located in the lower level of Frost Hall on College Avenue.  It is open Monday through Friday, 8:00 am to 5:30 pm for quiet reflection and prayer.  Prayer stations are available for guided prayer or free devotional materials. 
Cook Chapel is available also for worship events, weddings, memorial services, installation events and prayer vigils.
Chaplain's Office
Rev. Dr. Cynthia (Cindy) Zirlott
308 Hitchins Administration Building
301-687-7490
c.zirlott@frostburg.edu
Chaplain Cindy recognize that a spiritual or religious journey can be important, balancing critical thinking and faith values to the numerous challenges one faces in pursuit of academic and career goals.  She is passionate about meeting the spiritual needs of the whole community and encouraging the ongoing spiritual formation through community, action-reflection service opportunities, and spiritual practices.  She can also assist students who are in crisis or need by connecting them to resources available just for them. 
If you feel called to stretch your leadership skills she can help you find that perfect faith expression or form a small group on campus. 
She can also help you connect to local congregations who welcome students and match your desired worship style.
She also offers spiritual mentoring, spiritual counseling, and guided discernment to support the challenges students may be facing. 
Religious Life Student Organizations
Students from a wide range of faith traditions find a variety of ways to connect to each other and observe spiritual practices important to them. The following list includes the current official student organizations.  The links with provide you with additional information or you may also contact the Chaplain's office.  
BAPTIST STUDENT MINISTRY (GIG)
Pastor Ron Yost, radicalron@atlanticbb.net
Andii Taylor (Student Leader)
120 S. Broadway
Frostburg, MD
301-697-4881
Sponsored by: Baptist State Convention Maryland/Delaware; Western Baptist Association
Instagram: @frostburg_gig
Meeting:  Sunday 1 pm, Wednesday 7 pm.; BSM Student Center
BRIDGES — INTERNATIONAL STUDENT MINISTRY
Johnny Lawrence jllawrence0@frostburg.edu, 240-609-7277
Rebekah McCauley (Advisor), rbmccauley@frostburg.edu
Meeting: Friday 7 pm; Welsh Baptist Church
CATHOLIC CAMPUS MINISTRY (CCM)
St. Michaels Catholic Church, 301-689-6767
Sponsored by: The Catholic Archdiocese of Baltimore
Mass: Sat. 5pm, every Sunday 8 am and 12 noon.
Website:  CCM Web site
Chi Alpha Campus Ministry
David Warder dwarder7@gmail.com, 304-371-2766
Pastor Jessalyn Warder jessalyrw@gmail.com, 304-203-6584
Gabrielle Reed (Student Leader)
Sponsored by: Trinity Assembly of God
Chi Alpha Web Site
Meetings: Guys small group, Ladies small group, Large group service, Location and times TBD.
CRU
Jordan Beachy (student leader), jbeachy0@frostburg.edu
Daniel Sisler (Staff Leader), 301-616-3426 
Peggy Biser (Advisor)
19 Beall Street, Frostburg  MD  21532 
Cru@frostburg.edu
Sponsored by: Campus Crusade for Christ International in the U.S
CRUFSU Facebook
Meeting: Thursday 8 pm; Lane 111
FELLOWSHIP OF CHRISTIAN ATHLETES (FCA)
Connor Eberly
240-522-5442
ceberly@fca.org
Advisor: Cynthia Zirlott
Meeting:  Mondays, 5:30 pm, in Cordts Hall of Fame Room
First Love Frostburg 
Kwabena Bofah (student leader), Knbofah0@frostburg.edu, (443) 535-2718
James Saku (Advisor) JSaku@frostburg.edu
Instagram: @firstlovefrostburg
Meeting:  Sundays, 1 pm, in Cook Chapel
HILLEL
Dr. Kenneth Levitt, Management Dept.
Kjlevitt@frostburg.edu
301-687-4019
Meetings: Mondays at 8pm, Location TBA.
MUSLIM STUDENT ASSOCIATION (MSA)
Dr. Shakil Rahman, Management Dept.
301-687-4189
Frampton #310
srahman@frostburg.edu
Prayers on Friday at the Islamic Center in Cumberland
UNITED CAMPUS MINISTRY (UCM)
Logan Wesley (Student Leader) lawesley0@frostburg.edu or
Rev. Dr. Cynthia Zirlott (Chaplain) c.zirlott@frostburg.edu,
308 Hitchins Adm. Bldg
Frostburg, MD  21532
Sponsored by: Baltimore/Washington United  Methodist;  The Presbytery of Baltimore; Episcopal Church; The Lutheran Church; The Church of the Nazarene of Western MD; Disciples of Christ, Brethren Church of Westernport, Frostburg

UCM Facebook
Instagram: @Frostburg_UCM
Twitter: @Frostburg_UCM
Small Group Meetings:  United Through Christ Bible Study Fellowship, Monday, 7:45 pm  in Library 237;  Salvation and Praise Bible Study Tuesdays, 7:30 pm in Lane Center;  Study Buddies Study Hall, Wed, 6-9 in 328 Frampton;  Body & Spirit Fitness group, Thursdays 3:30 to 5:30 pm PE CENTER #110-1 Agape Latte, Wednesdays,  11-2 in Lane Center.
UNIFIED VOICES UNDER GODS DOMINION (Gospel Choir)
Shawn Jones (Advisor), rsjones@frostburg.edu, 301-687-4443
Reginald Morton III (Student President), remorton0@frostburg.edu 
FSU, Pullen Hall #133
Frostburg,  MD  21532
Instagram: @frostburguvugd
Twitter: @FrostburgUVUGD
Rehearsals:  Mondays and Thursdays,  8 pm in Cook Chapel