Chemistry Alumni Spotlight: Brandi Binkley '20
Aug 10, 2021 2:10 PM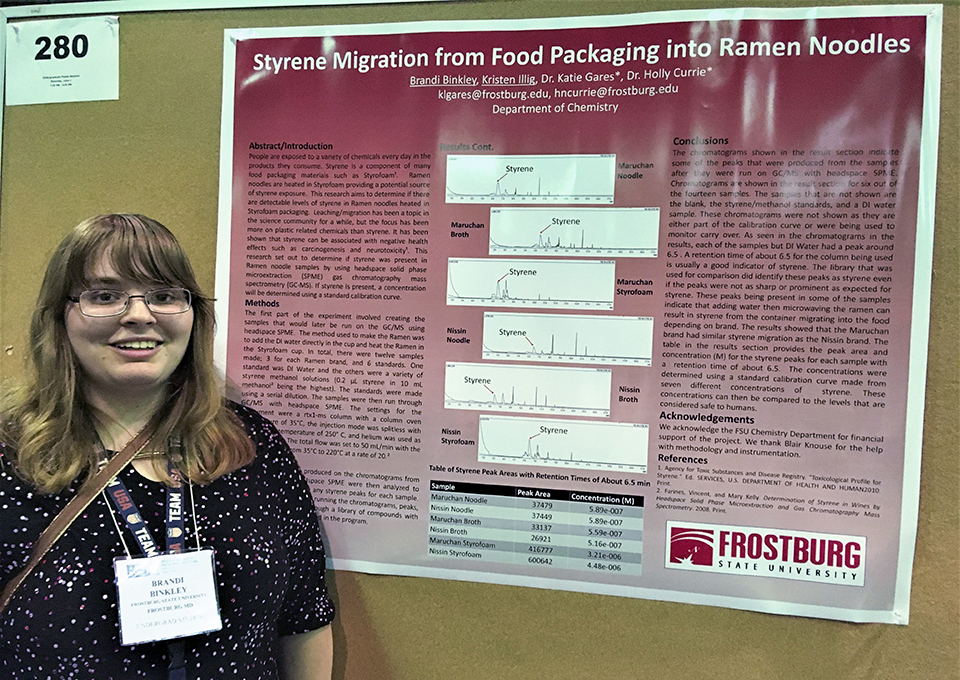 Hagerstown, MD
Major
Chemistry, Biochemistry Concentration
Minors
Computer Science and Secure Computing & Information Assurance
After Graduation
WVU Chemistry PhD program
Research Projects
Analysis of styrene migration from food packaging
Detection of toxic metals in baby food
Impacts of food preparation on the structure of gluten
Conferences
Allegheny-Erie Society of Toxicology Regional Chapter, Middle Atlantic Regional Meeting of the ACS, FSU Undergraduate Research Symposium, Gamma Sigma Epsilon Convention
What I like about being a chemistry major
Independent research. It has allowed me to gain experience and knowledge that I would have not gotten from traditional classes. I also like how being a chemistry major has challenged me throughout my undergraduate as it has helped me become a better student and work toward what I want.
What I like about FSU's Chemistry Department
The professors. Since it is my last semester, I have been lucky enough to interact with each professor at some point in my time at FSU. They are willing to help with whatever you need and genuinely want you to do well. I also like that chemistry classes aren't large in size as it allows you to make better connections and have a more interactive learning experience.
Why I chose Frostburg
I chose Frostburg because of the size of classes, the sense of community, and its affordability. I had also heard great things from some of my family members that had gone to FSU.