Chemistry Alumni Spotlight: Sabrina Martin '21
Jun 15, 2022 7:10 AM
Waldorf, Maryland
FSU Activities: Sloop Leadership Institute, Dear Edwina Children's Musical, Chemistry Department Student Lab Assistant
After Graduation: Sabrina is currently attending Penn State University to obtain Ph.D. in Engineering Sciences and Mechanics. She will conduct research for the Department of Defenses' Applied Research Lab. Penn State has awarded Sabrina a University Graduate Fellowship and the prestigious Walker Fellowship, so she can devote her time to composite fiber research.
Why Sabrina Chose Chemistry
Chemistry is a very versatile subject that offers a solid foundation to stand on for many fields of scientific research. My goal has always been to pursue materials science as a career and the core of materials science is chemistry. Going into a graduate program about materials with a background in chemistry gives me a different approach to understanding how materials behave.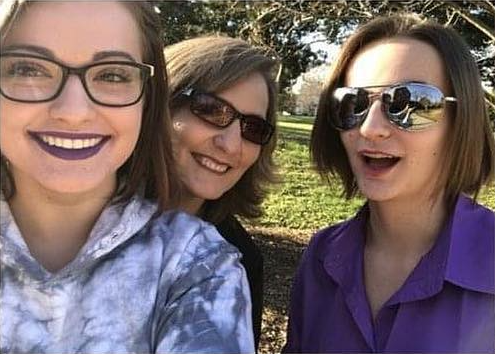 Sabrina (left) with mom, Suz and sister, Emily
Research Interests
Development of fiber composites and preventing/repairing fiber composite fractures.
Using biopolymers to repair carbon fiber composites used in submarines.
What Sabrina Likes About FSU's Chemistry Department
FSU's chemistry department is full of supportive professors who try to find ways to encourage students to succeed even in the face of catastrophes occurring in daily life (like a global pandemic or chronic health challenges). Even though my research interests did not entirely align with the research interests of most of the faculty, there was never a lack of support or encouragement from many faculty members.
Sabrina's Advice for Students Entering College
The best advice I could give is just to persevere. Things will be challenging, but that doesn't mean it isn't worth finishing. And find a support system that is willing to understand and work with your situation. The healthier your learning environment, the more you will be able to learn.
Interested in a chemistry degree? Email Dr. Holly Currie at hncurrie@frostbug.edu or contact FSU Admissions at 301-687-4201 or by email at fsuadmissions@frostburg.edu