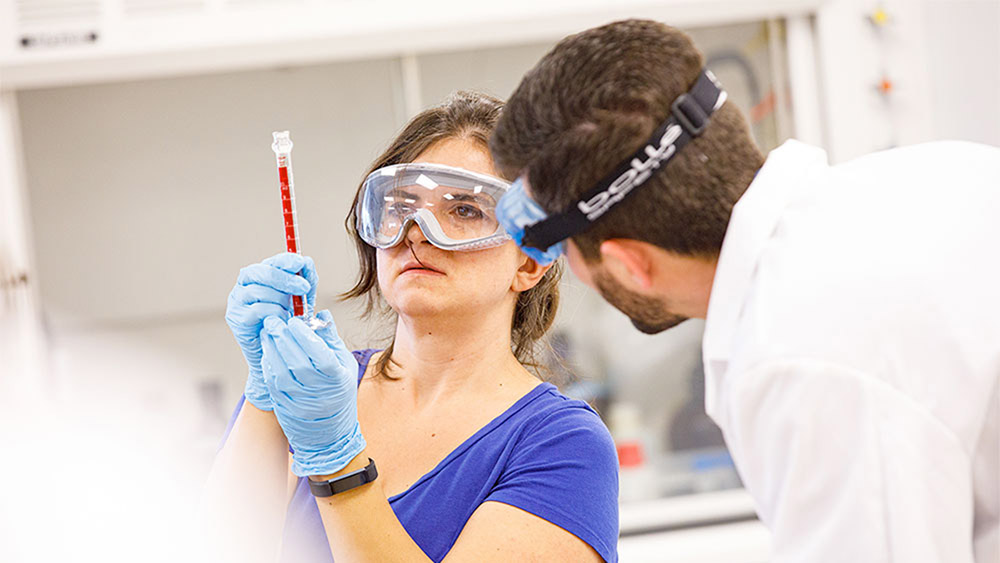 Explore Our Degrees
The U.S. has a growing need for healthcare professionals. Frostburg State has a variety of options to help you find just the right path to a career in this booming industry, including undergraduate, graduate and dual degree programs. From sports and physical therapy to home treatment and rural health centers, you have numerous options for a fulfilling career.
Undergraduate Programs
B.S. Health Science
This broad-based degree prepares you for a wide range of healthcare careers. From hospitals and community agencies, to private practice and research, you'll learn to apply your knowledge in a variety of settings in a high-demand industry. Through your choice of class selection, our program is completely customizable to your career goals.
Learn more about our B.S. in Health Science Program
---
B.S. in Nursing
Learn to provide compassionate, clinically sound nursing care through hands-on learning as part of Frostburg State's CCNE-accredited Bachelor of Science in nursing (BSN) degree program. Develop a broad base of scientific knowledge and critical thinking skills through small, supportive classes led by experienced faculty members.
Learn more about our various options to a B.S. in Nursing
---
Dual-Degree Programs
B.S. in Chemistry/Doctor of Pharmacy
The University of Maryland Eastern Shore and Frostburg State University have formed a new academic partnership offering students an accelerated track to becoming pharmacists in six years. This innovative "3 + 3" program allows you to complete your undergraduate and doctoral studies seamlessly to reduce instruction time and costs. After these six years, you have two degrees--Bachelors of Science from FSU and a Doctorate of Pharmacy from UMES. Upon completion of the program, you are eligible to take the pharmacy licensing exam.
Learn more about the dual B.S. in Chemistry/Doctor of Pharmacy program
---
B.S. in Exercise & Sport Science and M.S. in Athletic Training
Turn your passion for sports and health into a career with an Athletic Training degree. Whether it's high school or professional athletics, hospitals, public safety, military or performing arts, athletic trainers collaborate with physicians and other health team members to provide preventative services, emergency care to injuries and medical conditions, and improve performance for physically active patients. This unique 5-year Combined Program offers students an opportunity to complete graduate courses that will count towards their undergraduate degree.
Learn more about the Combined B.S. in Exercise & Sport Science/ MSAT program
---
Graduate Programs
M.S. in Athletic Training
Frostburg State's programs blends classroom instruction with clinical rotation opportunities giving you practical hands-on experience. From pathology of injuries to rehabilitation and nutrition, you'll acquire the tools to become an integral part of a health care team. It is a hands-on program that prepares you to pass the Board of Certification examination to become a nationally certified athletic trainer.
Learn more about a M.S. in Athletic Training degree
---
M.S. in Nursing - Traditional Tracks
Designed for registered nurses (RNs) interested in teaching or leadership positions, the M.S. in Nursing at Frostburg State University provides a path to success for RNs to assume leadership positions, manage complex clinical care, and prepare graduates to assume responsibility and accountability for health promotion of citizens within the community and across the nation.
Learn more about a traditional graduate degree in Nursing
---
M.S. in Nursing - Nurse Practitioner Programs
The Nurse Practitioner concentration prepares experienced baccalaureate nurses for the complexities of providing primary care or mental health care in today's underserved healthcare environments. Choose from Family Nurse Practitioner or Psychiatric & Mental Health Nurse Practitioner.
Learn more about a Nurse Practitioner degree
---
Master of Medical Science (MMS) Physician Assistant Studies
Our Physician Assistant program prepares you to become a licensed healthcare provider with clinical expertise and sound medical decision-making skills. Gain a wide range of diagnostic and therapeutic services from geriatrics to public health through coursework and clinical experiences. In Phase I (didactic phase), you will immerse yourself in pre-clinical learning. Phase II (clinical field education phase) includes ten diverse supervised clinical field experiences.
Learn more about the Physician Assistant Program