Student Alumni Ambassadors
WHAT WE DO:
Serve as a committee of student leaders who bridge the gap between FSU students and alumni.
Develop, foster, and promote the importance of a lifelong relationship with FSU. 
Partner with other student organizations to promote campus activities and foster specific alumni connections.
Assist the Office of Alumni Relations with sponsored events, network with alumni, and engage with alumni mentors.
Participate as representatives of the student body with the Alumni Association Board of Directors.
WHEN DO WE MEET:
The Student Alumni Ambassadors meet twice a month at the Lyric Building on Main Street. 
STUDENT ALUMNI AMBASSADORS FOR 2019-2020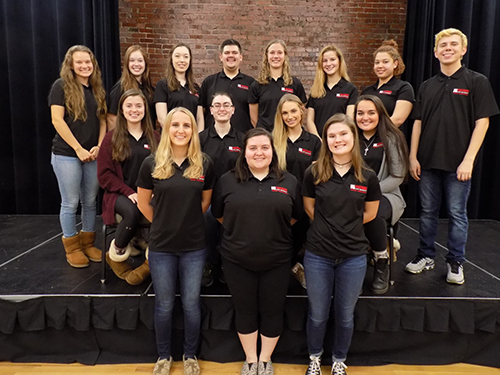 Olivia Berge '20
Bethany Bloom '21
Delanie Blubaugh '22
Brenna Bohn '20
Abreeya Darda '21 
Lacey Day '21
Jeremy Deinlein '20
Sarah Dignan '20
Emma Duncan '20
Jesse Dunagan '20
Emma Edwards '20
Benjamin Forrest '20
Blake Geatz '20
Rylee Learn '20
Lyric Mitchell '21
Lillian Johnson '22
Allison Paul '20
Rebecca Philip '20
Katherine Pinkowski '21
Jenna Puffinburger '20
Michela Pusterla '20
Gwendolin Schemm '20
Sarah Sprouse '20
Derek Staines '21
Sabrina Upole '20
Darien Wombacher '19

FOR MORE INFORMATION on becoming an SAA member, nominating a current student, or how your student organization can get involved with alumni engagement, please contact Brooke Kirchner at brkirchner@frostburg.edu.
 FSU undergraduate and graduate students are eligible for SAA membership.