Experiential Learning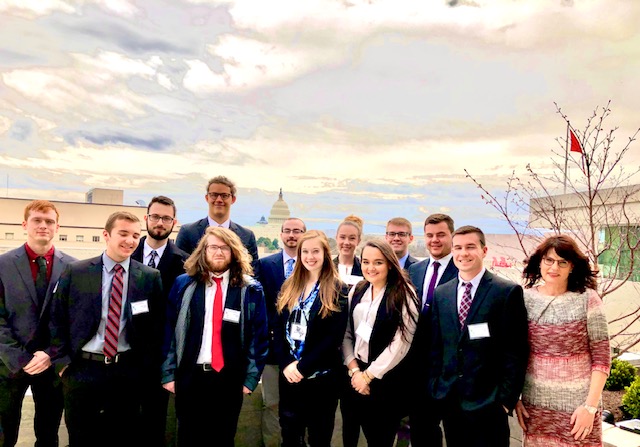 The FSU Delegation Representing Canada at the Canadian Embassy 2019.
Model Organization of American States
Every Spring Frostburg students spend the week in Washington DC participating in the Model OAS. Students receive course credit through POSC 435: Model Organization of American States.  This course is also a capstone option for the Political Science major.
FSU has participated in the Model OAS since the early 1980s and the department strongly supports this experiential learning opportunity.  The Washington Model Organization of American States (WMOAS) allows students of the Hemisphere to meet and find solutions to the issues the region faces such as strengthening democracy, pandemic response coordination, and economic development.  Students who participate in the WMOAS meet the OAS Secretary General and members of the Member States mission they represent and international civil servants who staff the agencies and autonomous agencies of the OAS.  
The WMOAS is a simulation where, through role-playing, the students represent the diplomats and political officials of the Member States of the OAS and follow parliamentary proceedings to debate and approve resolutions dealing with current issues on the Inter-American agenda. The Model fosters the development of leadership and negotiation skills, the importance of team-work and problem solving, and public speaking.
View more information about WMOAS
The course is by application only and recruitment begins in October.  For information about POSC 435 and to apply, contact Dr. Andorfer: jandorfer@frostburg.edu.
Model United Nations
University of Pennsylvania Model United Nations Conference
Each fall the International Relations Club leads a delegation of Frostburg State students to participate in the University of Pennsylvania Model United Nations Conference (UPMUNC) held in Philadelphia.  Over 1,000 delegates from 80 top universities usually participate in the Model UN to debate current and enduring issues in international politics. UPMUNC is held in downtown Philadelphia at the Sheraton of Center City.  Every year delegates enjoy the magnificent historic sights of the city as well as social events and the Philadelphia night life.
For information about Frostburg's participation contact Dr. Steve Twing: stwing@frostburg.edu
Model United Nations for High School students
Each spring FSU offers students from area high schools the opportunity to participate in a simulation of the UN Security Council. Students form delegations which represent countries from around the world and debate issues of war, peace, and international relations. The Model UN is run by Frostburg State University Students.