Memberships
Instructional Design and Technology sponsors FSU's memberships to several organizations that allow FSU to provide access to workshops for faculty development and a course peer review process.
Maryland Distance Learning Association
Maryland Distance Learning Association (MDLA) is an association of learning professionals comprised of educators, administrators, and leaders in the field of digital education. This association promotes the use of distance education throughout Maryland and provides opportunities for professional development, networking, and collaborative events. Their purpose is to promote quality, innovative eLearning for educators in K-12, higher education, and business settings (MDLA, 2016).
Quality Matters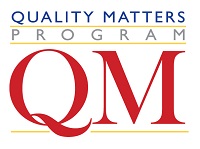 Quality Matters™ (QM) is a nationally recognized, faculty-centered, peer review process that is designed to certify the quality of online and blended courses. They are one of the leaders in online education for quality assurance in course design. They have received recognition for their peer-based approach where instructors peer review each other's courses using the QM rubric which defines quality standards for online course content. They are continuously working toward improvement in online education.
Quality Matters Facts
QM provides a supportive and collaborative environment to evaluate and improve courses.
QM focuses on evaluating courses, not instructors.
QM course reviews are not about passing or failing. They focus on continuous evaluation and improvement.
QM offers professional development and certification opportunities.
QM offers quality assurance from a nationally-recognized organization.
Learn more about QM Course Reviews.
Learn more about QM Workshops and professional development opportunities.
Benefits of Quality Matters
From their website:
Access to the Quality Matters fully-annotated Higher Education Rubric
Access to Web-based automated Rubric tools, for informal (unofficial/internal/self) course reviews for the development and improvement of online or blended courses
Discounts on QM Professional Development, Official QM-Managed course reviews, conferences, and events
Ability to create MyQM accounts which gives all faculty and staff access to our tools and resources and their personal QM Activity, including certificates of training and/or course certification
Access to reporting tools through MyQM
Access to My Custom Review Tool which allows an organization to develop their own Rubric
Access to communication tools to send customized emails to specific individuals, role holders or everyone in the organization with a MyQM account
To learn more about Quality Matters, contact the Instructional Design and Technology department.