Civility Cup Award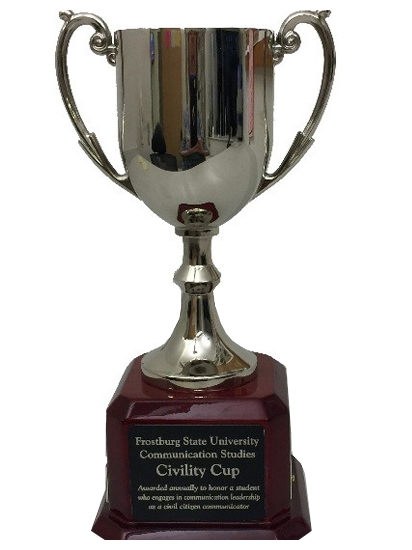 The Communication Leadership Lab will award the 7th annual Civil Citizen Communicator Award this May 2021.
This award is given to a Frostburg State University student who has demonstrated communication leadership or a commitment to civility and constructive change within an organization or community over the past year. This person should have demonstrated:
communication competence, 
leadership competence, and
an awareness of and responsiveness to matters of civility that impact others.
This award aligns with the mission of our programs and FSU to support the oral communication competency and leadership development of our students, and it supports regional development through recognition of efforts linking the campus to community partners.
Nominations
Do you know someone who is committed to changing our university, another organization or society for the better?  If so, submit a nomination for the Civil Citizen Communicator Award. Nominations will be accepted until the deadline of Friday, April 30, 2021.

Nominate a candidate or yourself by emailing Connie Capacchione, Administrative Assistant for the Department of Communication, at ccapacchione@frostburg.edu. Nominations should include:
nominee's full name, major(s)/minor(s), and intended graduation date;
if not a self-nomination, your name, role, and relationship to the nominee;
a brief rationale (1000 words or less) explaining why the nominee fits the criteria of this award; and
additional support for the nomination (up to three written documents, photos or videos of speeches or events, promotional materials, letters of acknowledgement, etc.).
A panel of reviewers external to the Department of Communication will rank and determine the award winner.
Each award winner's name is etched on the Civility Cup, which is displayed in the Department of Communication. In addition to the public announcement in May, a formal certificate of acknowledgement will be given to the student who receives this honor.
Previous Winners
2021: Cassie Conklin, major in Geography. Graduated in May 2021.
2015: Sophia Cooper, Mass Communication major. Graduated in May 2015.

2016: Trevor T. Jones, majors in Philosophy and Communication Studies with a concentration in Public Communication. Graduated in May 2017.

2017: Madison Lawrence, Ethnobotany major, minors in Biology, Forestry, and Cultural Anthropology. Graduated in May 2019.

2018 & 2019: Benjamin D. Forrest, majors in Math and Political Science. Graduated in May 2020.
2020: Tyler Bauer, majors in Political Science and Criminal Justice, minor in Sociology. Graduated in May 2020.
If you have any questions regarding the award or nomination process, please contact Dr. Elesha L. Ruminski, Professor of Communication Studies and Coordinator of Leadership Studies and the Communication Leadership Lab, at elruminski@frostburg.edu.