Profile Plus - Fall 2018
FSU ROTC Ranger Challenge Team: Small but Mighty
The Frostburg State University ROTC Department was an extension program from West Virginia University and therefore a smaller entity. The FSU Ranger Club was made up of, on average, fewer than 25 cadets. To be a member, the individual must be enrolled in ROTC and maintain the required GPA. Ranger Challenge is described as the "varsity sport" of ROTC. Teams are comprised of the top cadets in each program who compete against other colleges and universities.
In the case of the FSU Ranger Challenge team, what was lacking in size was made up in heart. The FSU team consistently defeated programs with 50 to 100 cadets in the corresponding Ranger clubs. The original 1986 team was composed of only nine members.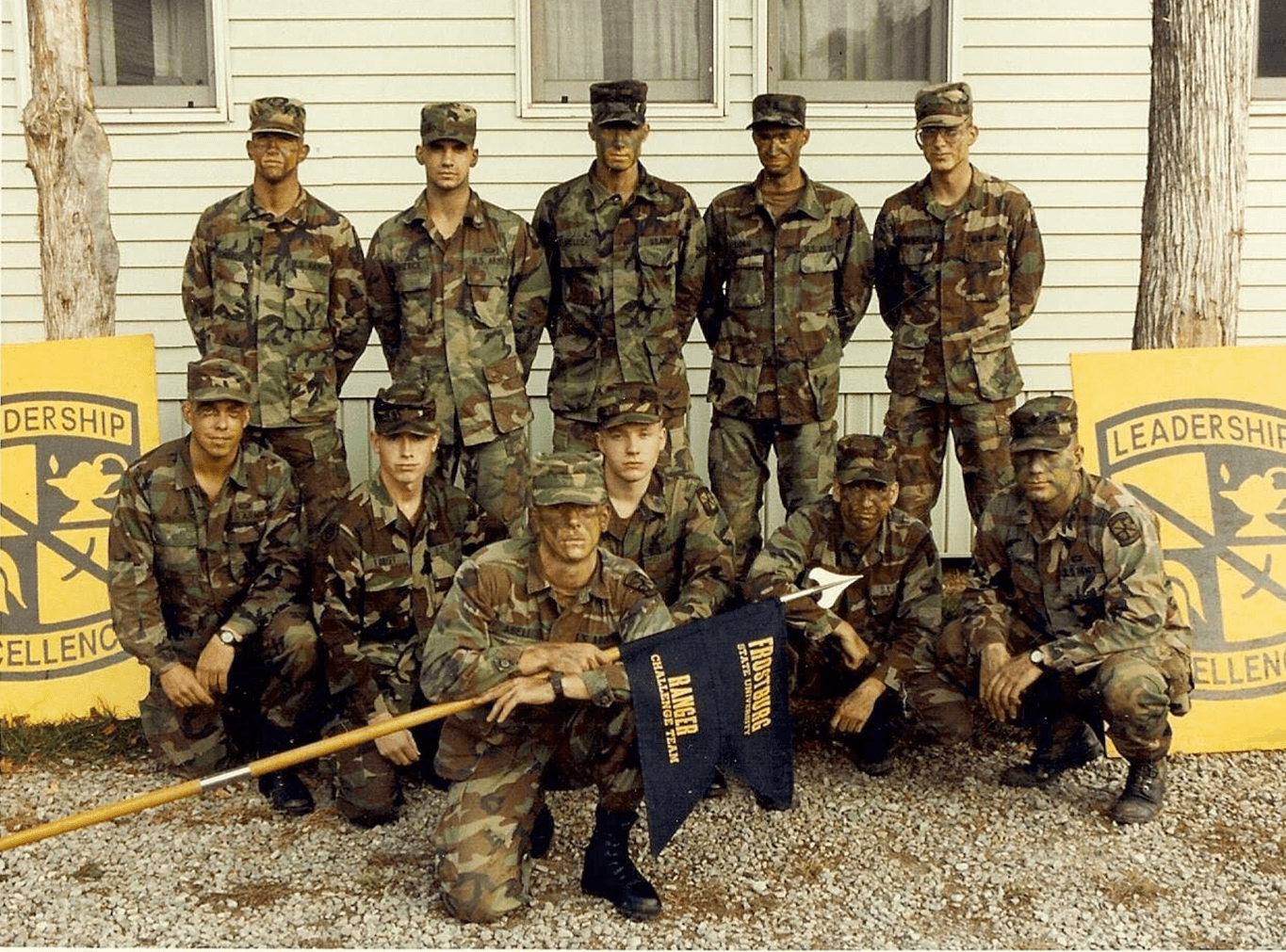 The 1991 FSU Ranger Team
In 1986, FSU ROTC, in its first attempt to field an ROTC Ranger Challenge Team in a major intercollegiate competition, roared onto the podium, capturing third place overall and first place honors in the Army Physical Fitness Test and the Grenade Throw events held at Bluegrass Army Depot in Kentucky.
FSU competed against the University of Kentucky, University of Louisville, Western Kentucky University, Marshall University, Moorehead State College, West Virginia University, West Virginia State College and Cumberland College. The Ranger Challenge is a three-day, eight-event competition that includes the Army Physical Fitness Event, grenade throw, rifle marksmanship, weapons assembly, orienteering, patrolling, building a one-rope bridge and a 10-kilometer road march.
The years 1987 to 1989 saw growth and continued success with the arrival of U.S. Army 1st Sgt. (ret.) Jerry Noel as the senior enlisted advisor to the team. Under Noel's tutelage, the FSU Ranger Challenge Team grew to 12 competitors, took second place overall and earned a spot in the National Event, not to mention defeating West Virginia University several years in a row. The National Event qualification proved to be a bittersweet success because, as a university extension center, funds were not available to field a team for the follow-on competition.
On a historical note, of the first two FSU Ranger Challenge teams comprised of 21 cadets, four went on to achieve the rank of colonel and four achieved lieutenant colonel. Many saw action in Desert Storm, Iraq and Afghanistan.
Information compiled by Lt. Col. (ret.) Tom Detrick '88, Lt. Col. (ret.) Mark Strauss '89, and 1st Sgt. (ret.) Jerry Noel.