What to Bring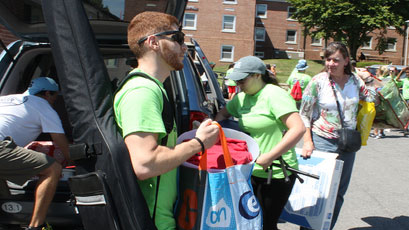 When helping your student prepare for college there are many items one might consider bringing. Here are some suggestions from the Residence Life Office:
Brownsville Hall Residents
Please bring bathroom cleaning supplies and toilet paper. Residents will be expected to keep their suite bathrooms clean.
General Room Items
UL-listed plastic waste paper basket
Fan - either a box or a windowsill model, no air conditioners.
Posters or other decorating items with command strip hangers
Cell phone and charger cable(s)
Surge protector/power strips with circuit breakers and long reach cables for computer, electronics, etc. must be grounded or surge protected.
Small flashlight, extra batteries
Area rug (6' by 9' is usually sufficient)
Basic tools – Screwdriver, pliers, hammer, multi-use tool
Portable shelves/Stacking storage units
Full-length mirror with over the door hanger
Entertainment Supplies
Television (smart TV or roku stick needed to connect to IPTV)
Entertainment electronics - small stereo w/an iPod docking station; DVD or Blu Ray player; gaming system or radio
DVDs, video games, headphones, etc.
Bike and bike lock (must be stored outside, not in student room)
Games: a deck of playing cards, board games, etc.
Clothes and Linens Items
Selection of clothing for season including cold weather clothing
Rain gear/umbrella, boots, coat, jacket, swimsuit, sports workout clothes
Bed sheets (extra-long twin size), egg-crate or memory foam mattress pad, pillow, bedspread, and blankets
Laundry Items
Each hall has a laundry room with many washers and dryers available at no cost to the residents. These high-efficiency washers and dryers are provided by the Mac Gray Corporation and use the LaundryView system which allows students to monitor the status of their laundry from their room via a computer.
Landry detergent (high efficiency machines)
Laundry basket (mesh, pop-up)/duffel bag, laundry detergent, fabric softener, dryer sheets
Clothes stain remover, clothes hangers, iron and table-top ironing board
Health and Beauty Supplies
Towels and washcloths
Toothbrush, toothpaste, floss, deodorant, mouthwash, and facial tissues
First-aid kit, including bandages and over-the-counter pain relievers like Aspirin, Tylenol, or Ibuprofen; other medications, vitamins
Shampoo, soap and a soap dish, and a tote to carry bathroom essentials to and from the shower; shower shoes, hair dryer, curling iron
Office Supplies
Desk lamp
Computer with wireless connectivity; routers in rooms do have 3 Ethernet cord plug-in spaces as well
Flash drive or external hard drive
Pens, pencils, highlighters, scotch and masking tape, scissors, ruler, paper clips, stapler,three-hole punch, rubber bands, note cards, post-it notes; scotch, masking, and duct tape
Notebooks, folders, binders, calculator, backpack/book bag, ruler
Planner/calendar/organizer, envelopes, postage stamps
Kitchen and Cleaning Items
Utensils (knife, fork, spoon), cup, plate, bowl
Dish soap, paper towels, trash can and trash bags, Ziploc bags
Reusable water bottle, snacks and soft drinks
Personal Items
Include Residence Hall Room on Home Owners' or Renters Insurance, Bring insurance card/health insurance information
All necessary papers: financial aid forms, class schedule, campus map
What
NOT

to bring

The following items are ones that the Residence Life Office does not allow or permit students to bring. Should a student be found to have the following items within their residence hall room they could face student conduct reprimands.
Gasoline, kerosene, ether, paints, propane or other volatile liquids
Open flame sources such as sterno, candles, incense, etc.
Overstuffed furniture (e.g. stuffed chairs, couches, bean bag chairs)
Weapons
Open-coiled and open hot plate appliances such as toasters, toaster ovens, hot plates. Items without open coils are permitted with student rooms.
Students are also cautioned not to hang items from ceiling fixtures, pipes, exit lights, smoke detectors, etc.
Pets other than fish in 10 gallon or smaller tanks.
LED Strip lights cannot be adhered to University walls or furniture.