Your Account
Activate Your Account
All staff and students are automatically assigned a valid Frostburg State University ID, which can then be used as a Bobcat Express Card. Simply add a deposit to your account to open it. There is no minimum dollar amount required for opening an account. Deposits can be made at any time in any amount and there is no maximum deposit amount.
Manage Your Account
Please log into your Blackboard Transact account and click 'Accounts' for up-to-date account information. Additional features are available such as deactivating your card if it is lost/stolen using 'Card Services'.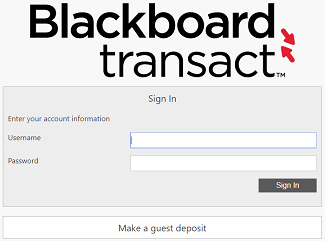 Note: Users must login to Blackboard Transact using their FSU credentials (w/out the @frostburg.edu), therefore parents are unable to view a student's balance.
Making Deposits: In-Person, By Phone, By Mail
You can make deposits to your Bobcat Express account any time during regular business hours in person or by mail using cash or check at the Business Office (located in Pullen Hall), or at the FSU Bookstore located in the Lane Center.
Adding Funds Online
Funds can be added to your account using the deposit (Add Money) feature within Blackboard Transact. Additionally, deposits can be made online using the online payment option through the Bursar's Office. Note: The online payment option through the Bursar's Office is not immediate, use the Add Money feature of 'Accounts' if you need immediate access to funds.
ADD FUNDS TO YOUR BOBCAT EXPRESS ACCOUNT
Checking Balances/ Freezing Acccounts
Please see 'Accounts' or 'Card Services' in Blackboard Transact.